Game 56; February 22, 2014
Dallas Mavericks (33-23) vs. Detroit Pistons (23-32)
Palace of Auburn Hills; Auburn Hills, MI
TV: Fox Sports Detroit
The Essentials:
| | | | | | | |
| --- | --- | --- | --- | --- | --- | --- |
| (NBA Rank) | Pace | Off. Eff. | Def. Eff. | TS% | Off. Reb.% | Def. Reb.% |
| MAVERICKS | 96.5 (13th) | 108.1 (4th) | 105.5 (22nd) | 56.2 (6th) | 24.0 (23rd) | 73.2 (23rd) |
| PISTONS | 97.6 (10th) | 102.5 (18th) | 105.2 (21st) | 51.5 (25th) | 31.5 (1st) | 74.1 (17th) |
T
he Pistons look to expand on last night's win over the short-handed Hawks when they face a Mavericks team fighting for a playoff spot in the rugged Western Conference. Coming into tonight, the Mavs are sitting in the 8th seed, one game above a surging Memphis squad. Dallas has won 7 of their last 9 contests, with an impressive win over the Pacers in Indiana. Other than a win over Memphis, their other five wins in that stretch were over five of the league's ten worst teams. The last time the Pistons faced the Mavs was on Jan. 26th when the Pistons suffered a 116-106 loss in Dallas. Dirk Nowitzki scored 28 points in that matchup, and figures to cause problems for the Pistons' slow-footed frontcourt (looking at you, Greg Monroe) again tonight.
Detroit rebounded 35.4% of their misses in the first match-up between these two teams, above their league-leading rate for the season. That didn't matter though because the Pistons allowed the Mavericks to shoot 58.1% from the field, including 67.9% inside the arc. Former Piston guard Jose Calderon was 7-8 from the field Detroit missed 12 free throws (16-28) and was a meager 4-13 from three-point range in the loss. The Pistons were led by 26 points (10-18fg) from Brandon Jennings and 25 (10-24fg) from Josh Smith. Andre Drummond posted one of his worst lines of the season, only managing 4 points and 6 rebounds in 26 minutes played.
Hit the jump for a breakdown of the Mavericks
Opposing Personnel:
STARTING FIVE
PG: Jose Calderon - 11.6 PPG, 44.3 3P%, 15.2 PER, 22.6 AST%, 11.3 TO%, 112 DRtg
The former Piston is seeing his lowest usage season since his rookie year playing alongside Monta Ellis and Dirk Nowitzki. He's also posting his lowest AST% of his career to go with a new career-best TO%. Calderon is a cog in the wheel in Dallas' offense, mostly valuable for his ability to knock down open threes. Must be nice having a guy like that.
SG: Monta Ellis - 19.0 PPG, 17.1 PER, 53.7 TS%, 24.8 AST%, 15.9 TO%, 109 DRtg, .354 FTr
This year's version of Monta Ellis is composed much differently than the Monta Ellis of the last three seasons. He's posting the highest free throw rate of his career, and taking threes less frequently than he has since the 2008-09 season. The result has been a more efficient Ellis, who is posting the second-highest Offensive Rating of his career. An obligatory Monta Ellis shot chart will still follow, in remembrance of his time in Milwaukee:
Via Grantland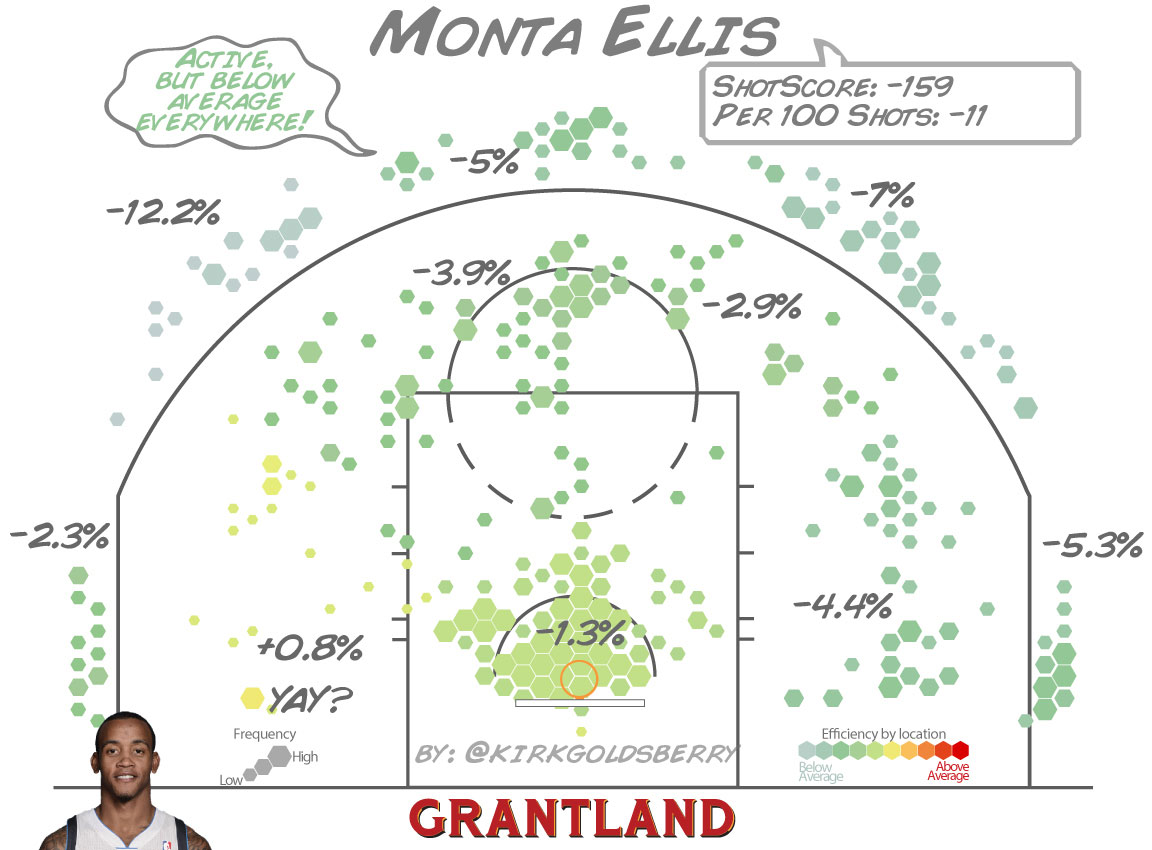 SF: Shawn Marion - 10.8 PPG, 35.7 3P%, 14.1 PER, .231 3PAr, 107 DRtg, 16.5 USG%
Marion, much like Calderon is just a cog in the wheel, there to support Nowitzki and Ellis. He's seeing the lowest usage rate of his career, his highest three-point attempt rate since he put on a Mavericks uniform, and a new career-worst defensive rating. This is also just the second time in Marion's career where he has been below the league-average (15.0) in terms of PER. The Pistons need to win the Small Forward battle if they're going to win tonight.
PF: Dirk Nowitzki - 21.8 PPG, 41.7 3P%, 60.7 TS%, 24.8 PER, .254 3PAr, 11.1 TRB%, 27.1 USG%
Nowitzki is enjoying yet another successful season this year at age 35. Aside from last year's injury-shortened season, Nowitzki is playing the fewest minutes per game of his career; and appears to be reaping the benefits of fresher legs. Nowitzki's TS% is over the 60-mark for just the third time in his storied career, and is posting his highest PER since the 2006-07 season. His perimeter-oriented offense will likely once again cause problems for the Pistons on defense, specifically Greg Monroe. This might be a night where Monroe needs to see fewer minutes if he can't earn his keep on the offensive end.
C: Samuel Dalembert - 6.4 PPG, 19.9 MPG, 16.0 PER, 14.2 USG%, 18.4 TRB%, 60.7 TS%
The Haitian Sensation is the starting C for the Mavs but only plays 41% of the available minutes at C. When he is on the court, Dalembert is their only semblance of a rim protector, averaging 1.9 blocks per 36 minutes. The key to stopping him on offense is, don't let him get offensive rebounds (7th in NBA in OReb%) and don't let him have wide open dunks. He was 3-5 from the field the first time the Pistons played Dallas, all three makes were dunks. If he's getting points in other ways, the Pistons are in trouble.
BENCH
SG: Vince Carter - 11.3 PPG, 24.1 MPG, 15.5 PER, 35.7 3P%, 22.5 USG%, .437 3PAr
At this point in his career, Carter is content to just camp out at the three point line. Nearly 44% of his shot attempts come from long range. The Pistons need to not leave him when closing gaps or double-teaming other Mavericks.
PG: Devin Harris - 8.9 PPG, 18.8 MPG, 18.0 PER, 35.7 3P%, 21.1 USG%, .517 FTr
Harris is enjoying a solid first 14 games of his season after returning from a toe injury that required offseason surgery. He's been in attack mode, posting a high free throw rate. Harris has taken 87 FGs in his 14 games, and has taken 45 FTs. The Pistons guards need to stay in front of him and help keep the Pistons' bigs out of foul trouble.
PF: Brandan Wright - 9.6 PPG, 18.5 MPG, 23.6 PER, 68.6 TS%, 131 ORtg
Wright is an ultra-efficient backup post. He needs to be kept away from the rim, because if he gets a good, close look he's going to convert it.
C: DeJuan Blair - 7.6 PPG, 18.3 MPG, 17.9 PER, 57.4 TS%, 12.4 OReb%, 5.3 Fouls/36mp
In case you haven't noticed, the Mavericks bench is really efficient. Blair's main skill is his offensive rebounding, having led the league in OReb% in the 2010-11 season when he played for San Antonio. As you can see with his 5.3 fouls per 36 minutes, he can be foul prone. Detroit may want to maximize the minutes that Drummond sees against the 6'7, flat-footed Blair.
SF: Jae Crowder - 5.0 PPG, 17.9 MPG, 11.4 PER, .506 3PAr, 32.3 3P%, 54.5 2P%
The one exception to Dallas' ultra-efficient bench, is Crowder. Despite shooting 54.5% on his two-point attempts, Crowder insists on launching over half of his shots from behind the three point line. This is the one perimeter player on the roster that Detroit can afford to sag off of on the arc. If Dallas just wants a wing to launch threes, it's a wonder why Wayne Ellington only plays 8.9 MPG.

HOW TO WIN:
Dallas is one of the most efficient offenses in the league, which doesn't bode well for the Pistons' 21st ranked defense. Dallas gets good shots often and converts their open three-point looks at a good rate. The combination of Monta Ellis and Dirk Nowitzki (a very odd couple) could very well light the Pistons up tonight; and if they don't their deep group of efficient bench guys will. The Pistons need big games from Andre Drummond and Josh Smith, the two players in the starting lineup who have a glaring advantage over their counterparts. Another key is getting Greg Monroe to abuse Dirk Nowitzki on the block, and get him in foul trouble early. Monroe likely won't be able to handle Nowitzki on defense, so he needs to make the matchup as equally one-sided when he gets the ball.
PREDICTION:
Mavericks 109 Pistons 102
*Follow Six Championship Drive on Twitter, @Kevin6CD