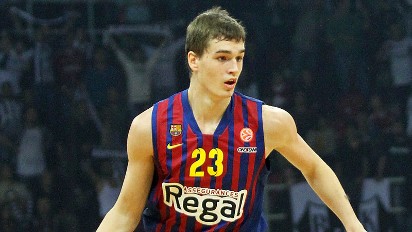 Mario Hezonja
G/F
6'8, 218
FC Barcelona
Dubrovnik, Croatia
2/25/1995
Big Board Rank: 4
Mario Hezonja is one of the tougher prospects in the 2015 draft to evaluate. He has obvious physical tools and has played very well when matched up against talent his own age. On the other hand, he plays in the world's second-best league and often finds himself scrapping for minutes behind older, more-established players. That leaves little in the way of evaluation compared to American college players who get to play 35-40 minutes per night, twice a week. There was also the 2014 FIBA World Cup, which Hezonja participated in with his native Croatia. Hezonja only managed 13 total minutes in two of Croatia's six contests, stuck behind Brooklyn Nets' SG Bojan Bogdanovic, among other more prominent players.
When Hezonja has had the chance to see consistent minutes on the floor against players his age, he's demonstrated a strong ability to be productive. In the summer of 2011, as a 16-year old, Hezonja suited up for Croatia in the FIBA U-16 and U-19 World Championships, as well as playing in the U-17 Worlds in the summer of 2012. The results ranged from solid to spectacular:
In his only matchup with a name you might recognize in the U-16 tournament, Hezonja posted 22 points and 8 rebounds against Milwaukee Bucks SF Damien Inglis and his French squad. The Hezonja-led Croatian U-16 team would go on to win gold in the competition, as Hezonja finished 4th in the tournament in scoring, 8th in rebounding and 6th in steals. All of that came in just over 20 minutes per contest.
Hezonja's play in the U-19 tournament featured more prominent matchups, and his best day in the competition came against a Canadian team featuring NCAA standouts Dyshawn Pierre (Dayton), Kevin Pangos (Gonzaga), Olivier Hanlan (Boston College) and Sim Bhullar (New Mexico State/D-League). Hezonja posted 21 points on 12 FGA, with 3 steals and 3 rebounds against a team that already featured college freshmen. Croatia finished 8th in the tournament.
Hezonja's biggest games in the U-17 tournament in 2012 came against star players as well. Hezonja scored 28 points and grabbed 7 rebounds in a win against Australia, which featured Dante Exum (2014 5th overall pick) and Ben Simmons (#1 player in 2015, per Rivals). He also scored 30 in a group play matchup against Spain and 2015 draft prospect, C Ilimane Diop, which he followed with 23 against Spain in a bronze medal game win.
STRENGTHS
While Hezonja struggled with his outside shot as a younger player, he has made strides as a shooter. After shooting 28.7% from three at multiple levels in 2012-13, Hezonja has shot 39.1% on 179 attempts in the last two seasons combined for FC Barcelona. Hezonja is a role player for Barcelona, which has served him well in developing his outside shot. With good size for the SF position, and great size for the SG position, and a high release, Hezonja should have no trouble getting his shot off in the NBA.
Dunks, alley oops and impressive blocks are featured in Hezonja's highlight films, providing evidence of his athleticism. While I could not find any reliable source of a vertical (some forums claim 40", which sounds fake and probably is), you can see that he has legitimate bounce when you watch him play. Hezonja is also fast in the open court for a player his age and size, which couples well with his length and ability to jump into passing lanes.
WEAKNESSES
While improved as a passer, Hezonja still isn't much of a threat to consistently create looks for his teammates. Though his role with Barcelona isn't conducive to that anyways, he hasn't really demonstrated the ability at any point in the past either. As a member of Barcelona's B team in 2012-13, Hezonja matched 31 assists with 61 turnovers. While he had moved into the territory above 1 in AST:TO ratio with Barcelona last year (26:18), he has regressed this season, as he continues to struggle with turnovers (52:53). Hezonja has enough skill and size to make improvements in this area with the right guidance, but it's more likely that he'll struggle as a playmaker throughout his career.
Another concern that may be more likely to change is Hezonja's weight and strength. Listed at 218 pounds, Hezonja has added close to 20 pounds in the last few years, but will likely need to add another 15-20 to comfortably play SF in the NBA; another 10 if he is a full-time SG. Hezonja is still young and the exposure to an NBA strength and conditioning coach would likely see him reach an ideal playing weight within his first few years in the league. Other issues include
rumored lack of effort on the defensive end of the floor
and poor shot selection.
FIT WITH THE PISTONS/AVAILABILITY
As Kentavious Caldwell-Pope continues to emerge as the Pistons SG of the future, for better or for worse, Hezonja would have to be seen long-term as a SF in Detroit. His shooting and athleticism would be a refreshing change at the position, as the aging Tayshaun Prince and Caron Butler don't exactly move the needle. While Hezonja's ceiling is high, the fact that he needs more development than someone like Stanley Johnson or Justise Winslow could discourage a franchise that hasn't seen the playoffs since 2009 from drafting a player who is so rough around the edges.
| | | |
| --- | --- | --- |
| | | |
| | 8th - Detroit | |
| | 7th - Denver | 7th – Justise Winslow |
| Basketball Insiders (2/24) | 8th – Utah | 11th – Cliff Alexander |
| CBS Sports – Vecenie (2/27) | 14th- Houston | 10th – Kevon Looney |
With the draft still three months away, things could definitely change, but there is a decent chance Hezonja will still be available when the Pistons pick. Their level of interest in him will likely be determined by who else is on the board. As much as I would like to see Hezonja playing for the Pistons, it's hard to imagine them picking him over a well-known American player, like Stanley Johnson or Justise Winslow. This also assumes that Hezonja chooses to enter the 2015 draft. As recently as January, Hezonja was
said to be on the fence
. It's always possible that he chooses to stay in Europe, but at age 20, this is likely the year where he would have optimal draft value.