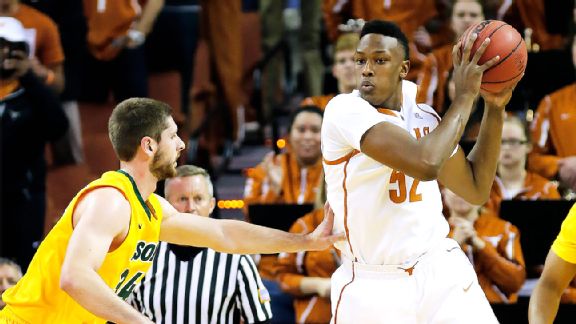 Myles Turner
F/C
6'11, 245
Texas, Fr.
3/24/1996
Big Board Rank: 12
Myles Turner's diverse game makes him an intriguing prospect. Most near 7-footers who are excellent shot blockers can't stretch the floor like Turner can. Turner's size, length, versatility and skill level make him well-suited to play both frontcourt positions. However, a lack of speed and agility may limit the PF matchups that Turner can handle on the defensive end of the floor. The main determinant of Turner's value appears to be the accuracy of his outside shot. With no reliable post game beyond a simple hook shot, if Turner can score from the mid-range out to the three point line efficiently, he will round into an excellent starter. If not, he will have to provide all of his value at the defensive end of the floor.
Turner had a fairly underwhelming offensive season as a freshman, coming to Texas as the #9-ranked player in the class of 2014, per Rivals. Although the raw numbers are unimpressive, Turner only played 22.2 minutes per game, as he shared frontcourt minutes with Jonathan Holmes, Connor Lammert and Cameron Ridley, all upperclassmen. One number that is more than impressive, Turner's 2.6 BPG:
Turner also played for the United States at the 2014 FIBA Americas U-18 Championship, where he blocked 18 shots in only 77 minutes across five games. Turner shot 64% from the field as the U.S. cruised to a first place finish.
STRENGTHS
Turner's size and length (7'4 wingspan) are two of his greatest strengths, which feed into his other major asset: rim protection. Turner posted a 12.3 Block% in his first, and likely only, year at Texas, good for ninth in the NCAA. On the offensive end, Turner can offer an NBA team floor spacing out to 20+ feet. He has enough skill to develop go-to moves on the block, but that will have to come with time, as his post game is still in its early stages.
WEAKNESSES
Turner lacks agility and speed, which may limit how productive he can be in an up-tempo offense, as well as the times when he can play PF due to defensive concerns. Turner's post game is fairly limited at this stage in his development, which restricts his offensive value. Also of concern are Turner's struggles in Big 12 play. Turner only shot 41.9% in conference play, including an atrocious 8-38 from three. Whether the issue is conditioning, small sample size, an increase in competition level or otherwise, the struggles are concerning when projecting Turner to the next level.
FIT WITH THE PISTONS/AVAILABILITY
Turner's ability to stretch the floor and provide additional rim protection would play nicely next to Andre Drummond. However, the concerns about his ability to guard mobile PFs is something that Pistons' fans should be worried about after watching Greg Monroe struggle similarly. The fact that Turner may be a better long-term fit defensively at C sheds some doubt on whether or not the Pistons would be interested in him.
| | | |
| --- | --- | --- |
| | | |
| | 12th - Utah | 8th – Kristaps Porzingis |
| | 14th – Phoenix | 8th – Trey Lyles |
| CBS Sports – Vecenie (2/27) | 9th – Boston | 10th – Kevon Looney |
| Basketball Insiders - Koutroupis (3/1) | 10th - Boston | 8th – Justise Winslow |
With the Pistons likely to pick between 6th and 8th, Turner will almost certainly be available when it's Detroit's turn to draft. It would be a safe gamble to trade down into the 11-14 range and see if he's available there, should the Pistons decide they want Turner. It also seems certain that Turner will choose to enter the 2015 draft. Texas just canned Rick Barnes and Turner is projected to to go in the lottery. I would be extremely surprised if Turner doesn't enter the draft. While that much is for sure, I'm not sold on Turner's value at the 6th, 7th or 8th pick, due to his Big 12 struggles and lack of elite athleticism. Should they make a move for Turner, I would much rather see SVG trade down a few picks and acquire additional assets in the process.