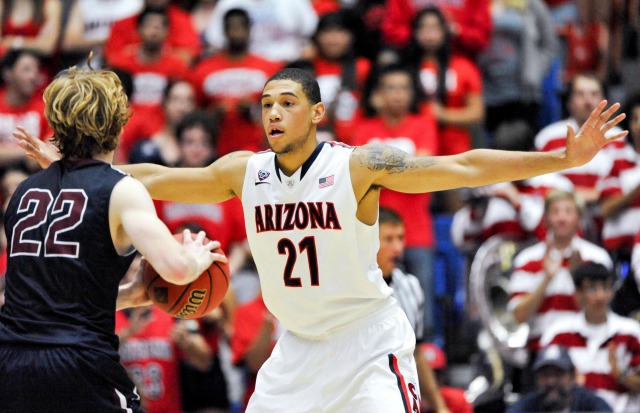 Brandon Ashley
PF
6'8, 230
Arizona, Jr.
7/15/1994
Big Board Rank: 46
Brandon Ashley's three seasons at Arizona have been somewhat underwhelming, after arriving as the number 23 player in the class of 2012, according to Rivals. Although Ashley has been a member of three very successful teams, he has been nothing more than a role player. While he hasn't been the star that his recruiting ranking suggested he could have been, there's no reason Ashley can't be a successful role player in the NBA. Thanks to a reliable mid-range jumper and great length, Ashley's style is a good fit in today's game.
Ashley tore a ligament in his right foot in February of his sophomore season, cutting what was arguably his best year as a Wildcat short. Nonetheless, Ashley didn't have a single inefficient season at Arizona, even if he didn't produce up to his recruiting hype:
Buried within Ashley's shooting numbers are his excellent figures in the mid-range game.
According to Derek Bodner of Draft Express
, Ashley shot 62.3% on mid-range jumpers as a sophomore, scoring 1.263 points per mid-range possession. If Ashley is going to succeed in the NBA, he'll have to do so in the same manner as he has in college.
STRENGTHS
Ashley's face-up game should fit nicely in today's NBA, where PFs aren't required to play every possession on the block. Although he isn't an elite three point shooter, he has enough range to be ticketed as a stretch four. Ashley's overall offensive efficiency makes him the prospect that he is. Although Ashley doesn't have great size for the position, his 7'3 wingspan should more than make up for that. He's yet to translate that into production in terms of blocks and steals, but that kind of length is an asset nonetheless.
WEAKNESSES
Though long enough to make up for his lack of size, Ashley also must make up for a lack of elite athleticism. His athletic shortcomings may also be an explanation for mediocre production on the offensive and defensive glass. Ashley's lack of peripheral skills (not a productive passer, rebounder or defender) limit his upside at the professional level. If it turns out that he cannot score, it's hard to see him sticking at the NBA level.
FIT WITH PISTONS/AVAILABILITY
With the possibility that Anthony Tolliver, Shawne Williams and Quincy Miller are all on the Pistons' roster next year, it could be hard to find room for a player like Brandon Ashley, whose skills overlap with current roster members. On the other hand, none of the three listed are on guaranteed contracts for the 2015-16 season. Williams and Miller are far from guarantees to be around next year, and Miller could play SF, so perhaps there's room for Ashley. Without inside information on what the team plans to do with the aforementioned trio, it's hard to say if Ashley is a fit. From a skillset/style of play standpoint, Ashley would fit nicely in Stan Van Gundy's offense.
| | | |
| --- | --- | --- |
| | | |
| | | 38th – Tyrone Wallace |
| | 36th – Sacramento | 38th – Terran Petteway |
| CBS Sports – Vecenie (2/27) | | 40th – Ron Baker |
| Basketball Insiders - Koutroupis (3/1) | | 38th – Damian Jones |
As a junior, there's no guarantee that Ashley will enter the draft, but it's hard to see him boosting his stock with one more year as a Wildcat. Should he enter the draft, there's a fairly high chance that he's still on the board when the Pistons choose in the 2nd round. In my opinion, Ashley isn't the kind of player who will make you regret passing on him.