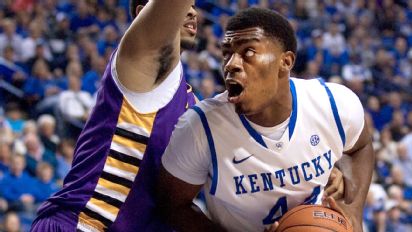 Dakari Johnson
C
6'11, 255
Kentucky, So.
9/22/1995
Big Board Rank: 27
Dakari Johnson is one of anywhere between five and seven Kentucky players who may be selected in the 2015 NBA Draft. With prototype size and good athleticism, Johnson would likely start for more than 300 NCAA D-1 programs. But he plays at Kentucky, where he shares frontcourt minutes with soon-to-be lottery picks Karl-Anthony Towns and Willie Cauley-Stein. Johnson arrived in Lexington with plenty of his own hype, ranking 9th in the Rivals150 for the high school class of 2013. The raw statistics would tell you that Johnson has failed to live up to the hype, but that's simply not true. Johnson was an important piece of the Wildcats' frontcourt on their 2014 national runner-up team and is an even bigger piece of this year's current undefeated, Sweet 16 squad.
That he hasn't had the opportunity to showcase himself may be the biggest reason why Johnson is ticketed for the 2nd round. Although he doesn't possess the high ceiling of a surefire lottery pick, Johnson seems to be every bit as talented as other recent 1st round big men. If you look at his production on a per-40 minute basis*, Johnson has played very well in his two seasons at Kentucky:
*I generally don't like per-40 #s, but it's the only fair way to judge a player in a platoon system
Johnson's per-40 production is on pace with likely 1st round pick Jakob Poeltl (Utah) and is better than teammate Willie Cauley-Stein's per-40 numbers. That obviously comes with a huge grain of salt, as Johnson plays mostly against other team's second units, but it somewhat puts a frame on how his playing time may be restricting his ability to produce up to his talent level. Put Johnson on any other SEC team (maybe not Vanderbilt or LSU, but probably), and he's easily the team's starting C and its best player.
STRENGTHS
Dakari Johnson's best asset is his size, which is the basis for the other things he does well. At Kentucky's fall 2014 Pro Day, Johnson measured in at just over 7'0 with shoes on, and weighed in at 255 pounds. That's good enough size to do battle with most NBA big men from his day one in the league. He also posted a 34" vertical leap at the pro day in Lexington, which would be in the top-15 all-time of Draft Express' NBA Combine database among Cs, had the jump occurred at that event. Johnson's physical attributes suggest that he could step right in as a backup big on most teams, or possibly start on a talent deficient squad.
He should be able to score enough to stay on the floor at the NBA level, with a chance to develop enough of an offensive game to be a quality starter. Instead, it's more likely that he's a well-rounded player who does most things well, but nothing spectacularly.
WEAKNESSES
Johnson's lack of a go-to move in the post, coupled with his lack of a jump shot suggest that he may be a liability on the offensive end in the first few years of his career. He may also struggle when it comes to guarding any post player that has the ability to step outside of the paint and attack him off the dribble. Johnson has also been a bit turnover prone this year, averaging 2.7 turnovers per-40 minutes, despite his fairly low usage role.
FIT WITH THE PISTONS/AVAILABILITY
If/when Greg Monroe leaves the Pistons in the offseason, they will not only have to replace their starting PF, but they will also be in need of a backup C. Although Joel Anthony has performed admirably in his limited minutes this season (his 14.2 PER is the best of his eight season career), he'll be 33 next year and isn't under contract beyond this season. Besides, with the impending loss of Greg Monroe, the Pistons have a need for more depth at C regardless of Anthony's situation.
| | | |
| --- | --- | --- |
| | | |
| | 39th - Brooklyn | 38th – Tyrone Wallace |
| | 41st – Utah | 37th – Brandon Ashley |
| CBS Sports – Vecenie (2/27) | 25th- Dallas | 40th – Ron Baker |
Opinions are varied on where Johnson should slot in come draft time. Much like Vecenie, I think he'll be off the board before Detroit picks in the 2nd round. On the other hand, Jonathan Givony of Draft Express is a respected draft mind. If he thinks Johnson will last well into the 2nd round, there's a good chance it happens. While Johnson is only a sophomore and could theoretically improve his stock by sticking around in college, it seems to be consensus that he leaves this year. While Willie Cauley-Stein and Karl Towns departing will create a void in the UK frontcourt, it will be filled quickly by Skal Labissiere, the nation's #2 high school prospect. It is likely Johnson will never be "the man" at Kentucky, so there's no sense in delaying the payday any longer.

Johnson wouldn't be the most enticing pick in the 2nd round, but he could provide an excellent backup for Andre Drummond with the right amount of preparation. Should Johnson be a Piston come June, there should be little reason for complaint, provided they didn't leave a greater talent on the board.