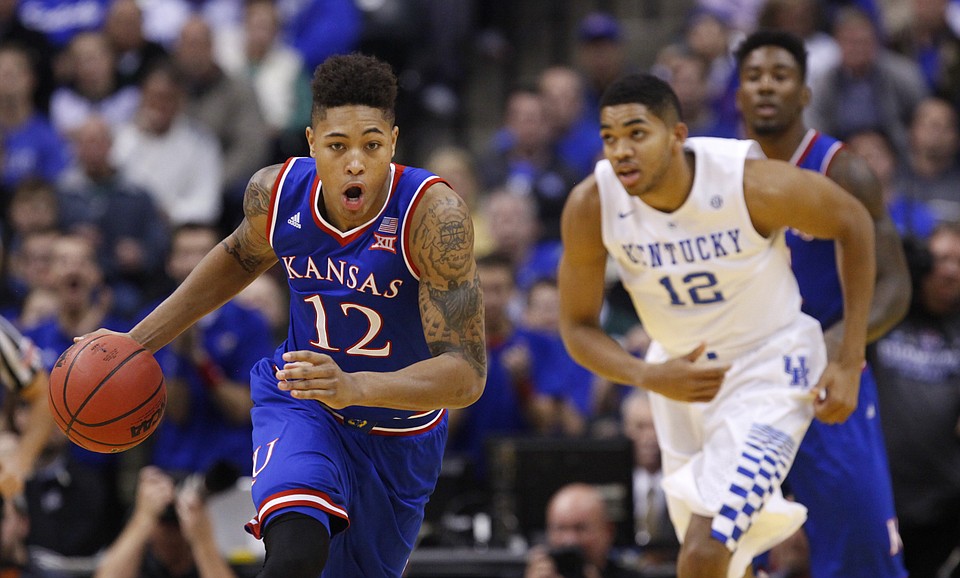 Kelly Oubre
SF
6'7, 205
Kansas, Fr.
12/9/1995
Big Board Rank: 10
Thanks to Cliff Alexander's strange season, Oubre was only the second-most disappointing freshman at Kansas this year. Joining the Jayhawks as the #6 high school player in the class (Rivals), Oubre was expected to help Kansas compete for a national title. Instead, Oubre only garnered 21 minutes per contest and the Jayhawks bowed out in the round of 32 to Wichita State. Oubre wasn't horrible, but he fell well short of expectations in his lone season in Lawrence. He'll leave Kansas and those expectations behind and enter the 2015 NBA Draft, where he's a likely lottery pick, thanks to his upside.
Despite playing fairly limited minutes, Oubre was the owner of the second-highest Usage Rate (23.1%) on the Kansas roster, among players with significant minutes. Considering his role, Oubre had a fairly efficient season, posting a 55.5 TS%. His playmaking statistics are less favorable, as he only managed a 8.1 AST% and a 12.5 TOV%.
Oubre's scoring efficiency can be best explained using his shot chart. To put it simply, Oubre takes shots with the highest possible value:
The lack of attempts in the mid-range is an encouraging sign. Oubre doesn't settle often for poor pull-up jumpers. He's either going to take a three or get into the paint. While he doesn't finish well in the paint (50.0%), Oubre does an excellent job of drawing contact and getting to the free throw line. Should he add more muscle to his frame and become better at finishing in traffic, Oubre could be a very efficient scorer at the NBA level.
STRENGTHS
Oubre's potential is built on his physical tools. At 6'7, he has good size for the SF position, and with a 7'2 wingspan, he has elite length for a perimeter player. He's not an elite athlete, but more than adequate. However, when coupled with his length, Oubre's athleticism gives him the tools necessary to make an impact on defense. On the offensive end, Oubre's greatest strength is shooting the ball, although he is not elite in that aspect.
WEAKNESSES
The biggest knock on Oubre is that he's not strong enough to play at the NBA level at this stage in his development. It's hard to see him making a huge impact on either end of the floor until he puts on another 15-20 pounds. Oubre's offensive game could use some polish, as he's not an overly skilled ball-handler or passer.
FIT WITH THE PISTONS/AVAILABILITY
Just about any SF available in the lottery would offer the Pistons an upgrade at the SF position. However, Oubre isn't an ideal fit because he's more of a project than peers such as Justise Winslow or Stanley Johnson. I wouldn't expect the Pistons to be very interested in Oubre unless they expect both Winslow and Johnson to be off the board by the time they pick, which is possible after Winslow's strong tournament showing. While his outside shooting would be a welcomed addition, the Pistons should look for a SF who can handle the ball and make plays, due to KCP's shortcomings in that area.
| | | |
| --- | --- | --- |
| | | |
| | 13th - Phoenix | 8th – Kristaps Porzingis |
| | 11th - Indiana | 8th – Mario Hezonja |
| CBS Sports – Vecenie (2/27) | 13th - Phoenix | 10th – Kevon Looney |
| Basketball Insiders - Koutroupis (3/1) | 15th – Atlanta | 8th – Justise Winslow |
As of now, it definitely looks like Oubre is going to be available when it comes time for Detroit to pick. He also might be available should the Pistons trade down to the back end of the lottery, which may be a better option of Winslow and Johnson are both off the board. Although Oubre has a solid upside and is likely better than he showed this season at Kansas, I don't believe the Pistons can afford to wait on him to make a difference.