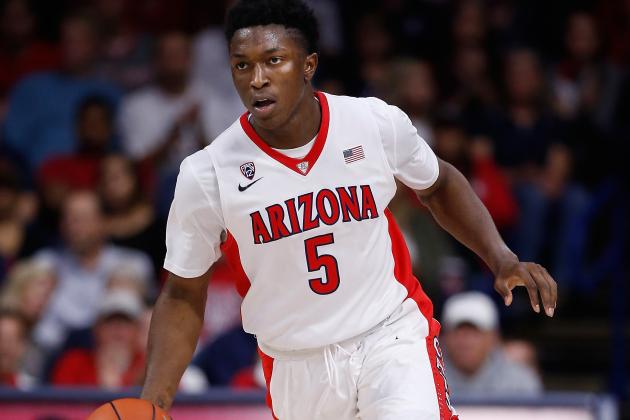 Stanley Johnson
SF
6'8, 245
Arizona, Fr.
5/29/1996
Big Board Rank: 7
Stanley Johnson is the rare college freshman wing who is already physically prepared for the bigger, stronger, faster NBA. As a point of reference, at 6'8, 245 pounds, Stanley Johnson is already every bit as big as one of the NBA's stronger wings in Joe Johnson, who stands 6'7, 245. Johnson is more than just a physical specimen though, as he proved during an impressive freshman season for the Wildcats. Johnson led Arizona's Elite 8 squad in scoring, and ranked second in rebounds, assists, steals and three point shooting. Although still developing on both sides of the ball, it's easy to see why Johnson is going to be a high lottery pick this summer.
Johnson has been a productive scorer and rebounder at every level, from high school, to the Nike EYBL circuit, to college ball. Thanks to his great size and athleticism, this is likely to continue wherever it is he plays next:
Johnson's three point shooting was a pleasant surprise this season at Arizona. Although he ended the season at a respectable 37%, his shooting in PAC 12 play is concerning. Johnson shot only 14 of 48 (29.2%) on three point attempts in conference play. Some of this may have been the grind of a longer, more physical season than he's used to, but for a player who has struggled from distance at prior levels, it is noteworthy. On a positive note, he did shoot 13 of 31 (41.9%) between the PAC 12 and NCAA tournaments.
STRENGTHS
The biggest plus at this point in Johnson's development is his NBA-ready body. He'll have less of an adjustment period to the NBA's more physical style of play than most rookies. Along that same line, Johnson's size and athleticism should allow him to guard three positions on most nights. His size and strength will allow him to defend smaller PFs, and he's more than athletic enough to defend perimeter players at SG and SF. Johnson should be a plus rebounder at the SF position, possibly as soon as his rookie season. On the offensive end of the floor, Johnson has a developing post game, which will be valuable over time thanks to his size. He's a strong finisher in transition as well.
WEAKNESSES
Prior to his freshman campaign, Johnson's most clear weakness was his perimeter jump shot. After a strong shooting season, that area is more of a question mark than a definite weakness. Other weaknesses include questionable shot selection (tends to settle for jump shots) and rudimentary ball-handling skills.
FIT WITH THE PISTONS/AVAILABILITY
If not for the questions about his ability to be a reliable outside shooter, Johnson would be a perfect for the Pistons' needs at SF. His upside as a defender would slot in nicely alongside Reggie Jackson, Kentavious Caldwell-Pope and Andre Drummond, who are also high upside defenders. With KCP's ball-handling shortcomings, it would be ideal to have a SF who can create some offense. Although that isn't a strong suit for Johnson, it's no reason to pass him over.
| | | |
| --- | --- | --- |
| | | |
| | 9th – Charlotte | 8th – Kristaps Porzingis |
| CBS Sports – Vecenie (2/27) | 5th – Orlando | 10th – Kevon Looney |
| Basketball Insiders - Koutroupis (3/1) | 5th – Orlando | 8th – Justise Winslow |
Johnson has been passed by Justise Winslow on a lot of boards during the tournament, fair or unfair. While it seemed likely that Johnson would be gone and Winslow would probably be on the board for the Pistons pick, that may have flipped in March. At this point, Johnson being available when the Pistons pick is a toss-up. Should he be available, the Pistons can't afford to pass him up. Much like Winslow, Johnson would offer the Pistons their best SF since Tayshaun Prince's first stint with the team, and the highest upside at the position since Grant Hill. In a division with LeBron James, Paul George, Jimmy Butler and Jabari Parker, a defensive stalwart on the wing would be a nice piece to have.