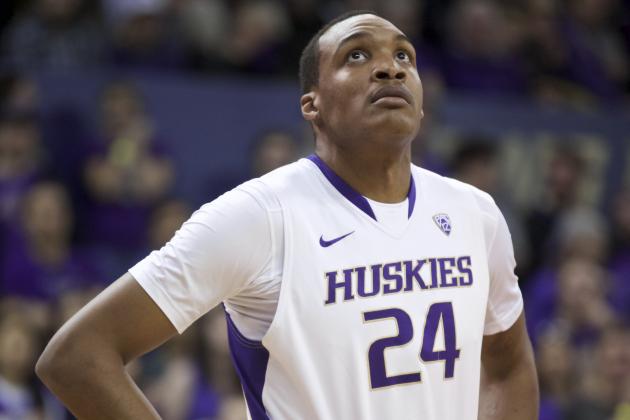 Robert Upshaw
C
7'0, 260
Washington, So.
1/5/1994
Big Board Rank: 38
Robert Upshaw is one of the more talented players who I'd be willing to guarantee won't be drafted in the first round. With prototype size for the C position and the ability to protect the rim as well as anyone, Upshaw is almost certainly one of the 30 most talented players in the 2015 NBA Draft pool. However, a long list of off-court problems and dismissals from both Fresno State and Washington appear to have sealed Upshaw's fate. If he's going to have a long successful career, he's going to have to prove that he wants it and make sure that his past is behind him. If not, it will be a short run for the talented big man.
Upshaw arrived as one of the most celebrated recruits in Fresno State history. He's one of only three four-star players (Quinton Hosley, Greg Smith) to commit to the Bulldogs in the Rivals era (2002-current), and was the highest rated of the three at 52nd nationally. Then there was the disappointment of a poor freshman season, followed by a dismissal from the program for three separate rules violations. Upshaw landed with Washington, who had recruited him as a high schooler, before sitting out the 2013-14 season.
Upshaw's time with the Huskies was much more productive, as he was a force on both ends of the floor in Washington's first 19 games. The stretch included a showdown with fellow 2015 draft prospect Jakob Poeltl of Utah. Although the Utes won the game, Upshaw won the individual battle. Poeltl only managed 6 points on 5 FGA and pulled in 7 rebounds. Upshaw notched 13 points on 6-8 shooting and pulled in 9 boards to go with 6 blocks.
STRENGTHS
Upshaw has the brute size of an NBA center already, but is still athletic at that size. With a 7'4 wingspan to boot, he's what you would build if you were starting from scratch and making a rim protector. Comparing him to Hassan Whiteside is lazy, but it seems to fit. Upshaw finished 2nd in the PAC 12 in total blocks last year despite only playing half a season. On the offensive end of the floor, he'll have to score off of the glass, which shouldn't be an issue. He's an above average offensive rebounder thanks to his physical strengths.
WEAKNESSES
The long list of off-court issues are a huge weight on Upshaw's draft stock. Had he finished the season at Washington on the trajectory he was on, we may be talking about him as a fringe lottery pick. Instead, there are questions about how long he can last in the league and if he really wants to play basketball. On the court, the biggest issues with Upshaw are his raw offensive game and inability to shoot free throws.
FIT WITH THE PISTONS/AVAILABILITY
Considering the defensive shortcomings of the stretch fours that Stan Van Gundy likes to employ in his offense, it can never hurt to have extra defense at the center position. Whether or not the Pistons are even interested in Upshaw in the 2nd round will likely be determined by the direction they go in the first round. If they go with someone like Frank Kaminsky, who can play C, in the first round it's hard to see Upshaw being under consideration.
| | | |
| --- | --- | --- |
| | | |
| | 33rd – Boston | 38th – Tyrone Wallace |
| | 53rd – San Antonio | 38th – Terran Petteway |
| CBS Sports – Vecenie (2/27) | 34th – LA Lakers | 40th – Ron Baker |
| Basketball Insiders - Koutroupis (3/1) | 27th – LA Lakers | 38th – Damian Jones |
This will be NBADraft.net's last appearance in the mock draft table. I'm not sure what's more unlikely, that Upshaw lasts until the Spurs pick at 53 or that Terran Petteway gets drafted. Their mock draft has both. Looking at the three competent projections, it appears that Upshaw lasting until the Pistons pick at 38 is unlikely. Should Upshaw still be around when Detroit picks, they may take a long look. Although his off-court issues are troubling, Upshaw would be a great value in the second round.