Danny Green - SF - 6'6, 215
FA Ranking: 3
Although he isn't the sexiest name on the market, Danny Green has just about everything the Pistons are looking for in a wing player. He's a quality defender at both wing positions, a dead-eye three point shooter and he doesn't need the ball in his hands for a whole possession to score. Green is definitely more of a SG, but there's no reason to believe he couldn't start at SF for the Pistons. He has enough size and height to defend even the biggest wings and is one of the few players in the league who you can truly describe as a "3-and-D" guy. He doesn't do enough off the dribble to be the perfect fit for Detroit's needs, but he's also going to come much cheaper than, say, Jimmy Butler. As far as realistic (guys who will actually hit the market, and may be interested in Detroit) free agent options go, Green should be option number one.
| | | | | | | | | | |
| --- | --- | --- | --- | --- | --- | --- | --- | --- | --- |
| Danny Green | PPG | PER | USG% | TS% | 3P% | 3PAr | FT% | FTr | DRtg |
| 2013-14 | 9.1 | 13.9 | 16.7 | 58.0% | 41.5% | .630 | 79.4% | .125 | 101 |
| 2014-15 | 11.7 | 16.5 | 17.5 | 59.6% | 41.8% | .619 | 87.4% | .172 | 100 |
| Career | 9.6 | 15.0 | 17.1 | 58.8% | 42.0% | .595 | 82.9% | .153 | 102 |
It's clear from his previous production that Green isn't going to put a team over the top, but he does the kinds of things that every team needs. The Pistons especially could use Green for what he does best: shooting the ball. It's impressive for a guy who shoots as much as Green does to be as efficient as he is. Among players with more than 1,200 minutes and more than 200 three point attempts in 2014-15, Green only ranked behind Kyle Korver, Eric Gordon, Steph Curry, Klay Thompson, J.J. Redick and Anthony Morrow in 3P%. To make that even better, Green is an assassin from the places on the floor that Stan Van Gundy's offense would likely place him: the corners. This, from Kirk Goldsberry of Grantland.com, tells the story as well as anything else: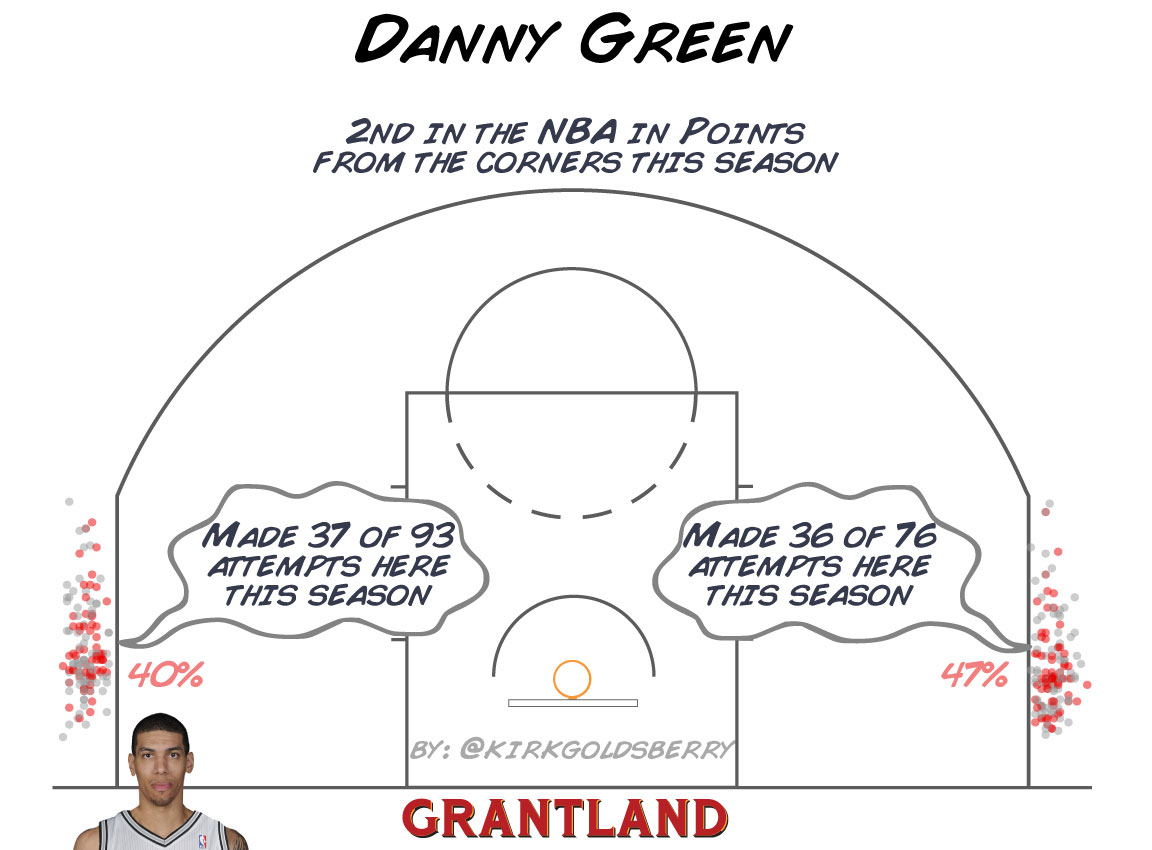 The Pistons have had SFs who can shoot the ball over the last few years (Singler, Butler, etc.), but none of them also have the defensive chops that Green does. Defensive Rating isn't a great stat to encompass his abilities, but it's a starting point. The picture is a little bit clearer when you look at Green's ability to defend in specific situations. Among players with a minimum of 60 defensive isolation possessions during the 2014-15 season, there were only five perimeter players who allowed fewer points per possession than Green. The top-ranked Piston on the list, Kentavious Caldwell-Pope, was much closer to the bottom of the list than the top, allowing nearly .30 PPP more than Green in isolation situations. Green's less prolific defending the ball-handler in the pick-and-roll and in closeout situations, but he's still at least average in those areas. Green would be the kind of wing defender the Pistons haven't had since Tayshaun Prince was in his prime.
Green isn't without his flaws, of course, otherwise he'd be awaiting numerous max offers like Jimmy Butler. He's not a good ball-handler, which would leave the Pistons with two wings who can't create in most lineups. Kentavious Caldwell-Pope has the same issue and Jodie Meeks isn't anything special as a creator either. Would a lineup with KCP, Green and Drummond have enough creation with just Reggie Jackson or whoever else at the point to set things up? Probably not. The other downside of pursuing Green is, there's the chance that he shrivels up away from the comfortable confines of the Spurs' system and Gregg Popovich's brilliant coaching. That's assuming Green is even interested in leaving the city that saw his basketball career reach a level few thought that it would.
There's a few comparable guys you could look at from the past few offseasons when trying to figure out just what kind of deal Danny Green might get this summer. You can set the baseline by being sure as hell that Green is getting a deal better than the 3-year, $16.5M contract P.J. Tucker signed with the Suns in the summer of 2014. Green's a full year younger than Tucker was, and quite simply a much better player. A better comparison might be found in Trevor Ariza, who inked a 4-year, $32M deal with Houston last summer. Ariza and Green both enter/entered free agency at age 28 as arguably the best three-and-D guys on the market. Both hit free agency having won a title, although Green's contribution to a ring was much more important and recent. With the cap on the rise, it may not be absurd to see Green get a four year deal that lands between $38M and $44M. A deal like that would be player favorable in the first year, and likely team favorable or fair when the cap spikes in 2016. The Pistons would likely have to offer Green at the higher end of that scale to pique his interest. Green has been open about a desire to return to San Antonio, and as a player who has never missed the playoffs, he may be leery of joining a franchise that hasn't made a postseason appearance in six years.
Assuming Green is interested in Detroit, the Pistons level of interest in him may depend on who they draft. If Detroit ends up with Stanley Johnson or Mario Hezonja at the 8th pick, should that mean the Pistons are no longer interested in pursuing Green? I say no, and here's why: A perimeter rotation of Danny Green and Johnson/Hezonja has way more upside than a wing duo of KCP and Johnson/Hezonja. Even more enticing, signing Green and drafting Johnson would give the Pistons the flexibility to move Jodie Meeks in a trade during the offseason if they see fit. Not to mention, signing Green would possibly put a little more pressure on KCP to accelerate his growth. Green's positional flexibility is a big part of why he should be attractive to the Pistons.
If the Pistons do make a play for Green, it's an indication that they're ready to end their playoff drought now. If Green gets a deal in the $10M range annually, that would leave the Pistons with about $15M to find a starting PF and add depth. With trade chips in Meeks and Jennings and that much cap space, the Pistons wouldn't be handcuffed at all by giving Green a fairly sizable deal. A successful offseason that includes a Green signing might look as follows:
G/F Danny Green: 4 years, $40M
PF Amir Johnson: 3 years, $27M
C Bismack Biyombo: 2 years, $8M
C Greg Stiemsma: 2 years, 2.1M
That would leave a depth chart that looks like below, assuming that Meeks/Jennings aren't dealt, Johnson/Hezonja is the pick at #8, Richaun Holmes is the pick at 38 (for the sake of picking someone, I went with who I have in the most recent mock) and that Shawne Williams and Caron Butler are waived. If the Pistons get lucky and Cartier Martin declines his player option, you have another roster spot:
| | | | |
| --- | --- | --- | --- |
| Position | 1st | 2nd | 3rd |
| PG | Reggie Jackson | Brandon Jennings | Spencer Dinwiddie |
| SG | Kentavious Caldwell-Pope | Jodie Meeks | Cartier Martin |
| SF | Danny Green | Johnson/Hezonja | Quincy Miller |
| PF | Amir Johnson | Anthony Tolliver | Richaun Holmes |
| C | Andre Drummond | Bismack Biyombo | Greg Stiemsma |
That team isn't winning a title, but if Andre Drummond takes even a moderate step forward in his 4th NBA season, the Pistons are easily a playoff team in the Eastern Conference. There's a lot of extrapolation built into this; it's not meant to be a realistic scenario, but to show that you can put together a good offseason built around signing Danny Green.
The Pistons would have to overpay to bring Danny Green to town, but that should be a move they're prepared to make if Green is willing to listen. His ability to provide spacing around the Reggie Jackson-Andre Drummond pick-and-roll and defend the opposing team's top wing player night-in and night-out would make him worth the somewhat hefty investment. No other player on the market could give the Pistons what Green could at the same price. It wouldn't be a signing that would move the needle around the league, but the Pistons need guys like Danny Green if they're going to build around Andre Drummond and Reggie Jackson.