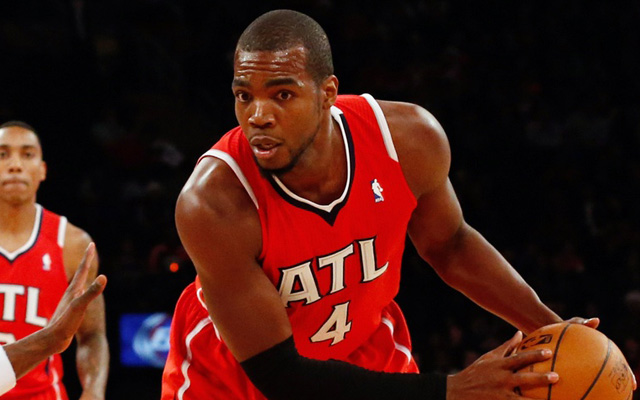 Paul Millsap - PF - 6'8, 245
FA Ranking: 6
Much like teammate DeMarre Carroll, Paul Millsap has blossomed in Atlanta over the past two seasons. A key piece of the Hawks' big year, Millsap hits free agency after providing Atlanta with great value on a two year, $19 million deal signed in the summer of 2013. He provided the Hawks with a little bit of everything on the offensive end of the floor, providing spacing as a stretch four, acting as a playmaker when needed, and in general, scoring with excellent efficiency considering his role as the first or second option whenever he was on the floor. Millsap took a gamble on himself when he signed a short deal two years ago, and has put himself in position to cash in this summer. Set to turn 31 in February, this will likely be Millsap's last major free agency foray. He should command a deal close to the max salary this summer, and it's far from a guarantee that he remains with the Hawks. Should the Pistons be interested in the talented PF, or is he too old to make sense with this team's core?
| | | | | | | | | | | | |
| --- | --- | --- | --- | --- | --- | --- | --- | --- | --- | --- | --- |
| Paul Millsap | PPG | PER | USG% | TS% | 3PAr | 3P% | AST% | TRB% | FTr | FT% | DRtg |
| 2013-14 | 17.9 | 19.8 | 25.7% | 54.5% | .202 | 35.8% | 16.2% | 14.6% | .373 | 73.1% | 102 |
| 2014-15 | 16.7 | 20.0 | 23.8% | 56.5% | .232 | 35.6% | 15.4% | 13.6% | .362 | 75.7% | 99 |
| Career | 13.5 | 19.1 | 21.7% | 56.1% | .077 | 34.0% | 11.9% | 15.0% | .383 | 72.8% | 103 |
You don't need me to tell you how productive/good Millsap was during his short Atlanta tenure. He was chosen as an Eastern Conference All-Star in both seasons, won EC Player of the Month in January of 2015 and helped lead the Hawks to the best record in the Eastern Conference this year. Millsap's got the numbers to back all of that up, as he posted a stellar PER, scored with good efficiency and filled the stat sheet in just about every category, notching close to 2 SPG and 1 BPG in 2014-15. Millsap's strong outside shooting essentially came out of nowhere (he was good in the mid-range for Utah), as he never posted a 3PAr above .045 with the Jazz. That he shot above 35% in each of the last two seasons at the rate that he attempted threes is a testament to Millsap developing his skill level and taking advantage of new opportunities. Although not quite what he posted in Utah, that Millsap maintained a solid FTr speaks to how well he composed his offensive game in the Hawks' system. He turned a lot of his mid-range game into threes and more lay-ups, and it paid off immensely for himself and his team. Kudos to the Hawks' organization and coaching staff for unlocking what has turned out to be the most valuable part of Millsap's game.
There's something a bit strange when you look at Millsap's play-type statistics. He's nowhere above average in any of the main areas that composed the majority of the possessions that he use:
| | | | |
| --- | --- | --- | --- |
| Paul Millsap | Possessions | Pts. per Poss. | NBA Rank |
| Isolation | 135 | 0.90 | 26/55 |
| PnR Roll-Man | 193 | 0.98 | 24/55 |
| Post-Up | 163 | 0.72 | 55/59 |
| Spot-Up | 268 | 1.01 | 31/52 |
| Cut | 128 | 1.09 | 41/55 |
How Millsap managed to be so efficient despite not posting elite numbers in any specific area is beyond me. With the exception of post-up plays, Millsap is at least average in most areas. When measured against peers with a similar or higher number of possessions used in each area, Millsap just doesn't look like he does much well. When you look at his overall numbers, you would think of Millsap as a major improvement on what the Pistons have had in the frontcourt recently. When you look at his play-type statistics, there's some reason for concern.
Millsap's defensive play-type stats are equally unimpressive. Here's what a cautionary tale on the Defensive Rating statistic looks like:
| | | | |
| --- | --- | --- | --- |
| Paul Millsap | Possessions | PPP Allowed | NBA Rank |
| Isolation | 78 | 0.83 | 32/68 |
| PnR Roll-Man | 101 | 0.90 | 41/61 |
| Post-Up | 128 | 0.86 | 36/52 |
| Spot-Up | 249 | 0.96 | 23/51 |

Millsap's 99.2 Defensive Rating ranked 9th in the NBA for the 2014-15 season, as part of the Hawks' 6th-ranked defense. Millsap even received 8 votes for the NBA's All-Defensive team. And then you see that he was merely average at defending in specific situations and wonder what you've missed. There's obviously more to defense than just those four play-types, but it's evident to me that Millsap isn't an elite defender. On the other hand, with Greg Monroe patrolling the perimeter against stretch fours in the last few years, it would be nice to see a PF with some ability to defend outside the paint.
As mentioned above, Millsap figures to seek out the biggest deal he can get as he enters the last major free agency of his career. Unless he signs a one year deal with the intention of taking advantage of the rising salary cap, Millsap should go to the highest bidder this summer. That should put the Pistons in a position to make a competitive bid for the high-quality stretch four. There is a logical fit for Millsap in Detroit; he's essentially the ideal player for the PF position in Stan Van Gundy's offense. The problem is, he's significantly older than the Pistons' core of Andre Drummond, Reggie Jackson and Kentavious Caldwell-Pope. That being said, I expect the front office to make moves that can vault the team into a playoff position, whether it makes sense or not. That would make Millsap a candidate to receive a large chunk of the team's cap space. Millsap didn't take a short deal in Atlanta just to sign for a discount this summer; I don't think that Millsap will get himself a max deal this summer, which would pay him approximately $19 million per season. I do think he'll get himself within a few million of that annually.
For the purposes of trying to simulate an offseason that includes a Millsap signing, let's assume that the Pistons ink Millsap to a four year deal worth $64 million, or $16 million annually. With roughly $25 million in cap space to play with this summer, the Pistons would have about $9 million to spend following a Millsap deal. Let's assume that the 8th pick is used on Stanley Johnson and the 38th pick nets the Pistons backup C Mouhammadou Jaiteh. That would leave the Pistons needing a starter at SF and depth at PF and C. Here's what the rest of the free agency period might look like:
PF Paul Millsap: 4 years, $64 million
SF Al-Farouq Aminu: 3 years, $15 million
C Bismack Biyombo: 2 years, $8 million
SF Glenn Robinson III: 2 years, $2.5 million
That would leave the Pistons depth chart looking as follows, assuming that Quincy Miller slides to PF after the Glenn Robinson III signing:
| | | | |
| --- | --- | --- | --- |
| Position | 1st | 2nd | 3rd |
| PG | Reggie Jackson | Brandon Jennings | Spencer Dinwiddie |
| SG | Kentavious Caldwell-Pope | Jodie Meeks | Cartier Martin |
| SF | Al-Farouq Aminu | Stanley Johnson | Glenn Robinson III |
| PF | Paul Millsap | Anthony Tolliver | Quincy Miller |
| C | Andre Drummond | Bismack Biyombo | Mam Jaiteh |
That's a group I can get behind, assuming Aminu and Johnson can provide enough production from the SF spot. I would feel better about the offseason if Brandon Jennings was moved to free up cap space and someone like Danny Green or Wes Matthews is added to man the SF spot. I would assume the front office is smart enough to know that they have to do something on the wing if they're going to make that large of an investment in a player like Millsap. If all of the cards fall properly (Drummond develops, SF is figured out, KCP figures it out), then that's the start of a group that can win a playoff series or two in the Eastern Conference. Should that be the goal?
There's no questioning Paul Millsap's talent, or that his offensive game is about as perfect of a fit as you can find for the PF position in the offense that Stan Van Gundy is trying to build. While a Millsap signing would signal a direct move in the direction of making the playoffs, his age complicates any long-term picture for the franchise. Combine that with the size of the deal he's likely to command, and I think the Pistons can take better advantage of the resources they would have to commit to a Millsap deal over the next four years. While I don't think a Millsap signing would be prudent, it's hard to deny that it would make next season much more enjoyable. However, if I've learned anything from the last five or six Pistons' offseasons, it's that the early payoff generally isn't worth it. Not making a player in his 30s the cornerstone of this year's free agency class would be a sign that the front office is prioritizing the long run, and that's what I'm pulling for.