DeAndre Jordan caused a hell of a lot of controversy by doing something that we all do on a daily basis: changing his mind. The whole situation has drawn a wide variety of responses, from acceptance, to some pretty hot-takey overreactions that draw connections between Jordan signing with the Clippers and an overall downfall of society. Personally, I think there's only one thing to be learned from the whole ordeal: An NBA team holding one of their impending free agents hostage is about as entertaining as an offseason can get. We didn't get
an emoji battle on Twitter
when Greg Monroe left the Pistons for the Bucks, and unfortunately Damian Lillard wasn't granted the opportunity to provide interior design opinions on the chair setup at Lamarcus Aldridge's house:
— Blake Griffin (@blakegriffin32) July 9, 2015
What I'm getting at here is, the NBA, and all of us as fans, need more of what happened on Wednesday night with the Clippers putting DeAndre Jordan's Houston home inside an anti-Mark Cuban force field. With that being said, I think it would be a good exercise to see what kind of drama we've missed out on in the past three off-seasons. So I've gone through and found the guy that each NBA team has lost in the last three free agency periods, who they wish they could've had their hostage meeting with. Enjoy.
In order to qualify for hostage consideration, a player has to meet a few qualifications. First, the player has to have left for another team in free agency. That's obvious, because you can't have the hostage meeting if a guy is already planning on coming back. Second, I'm only considering the last three free agency periods, because I said so. Since this year's free agency isn't wrapped up yet, we'll go with 2014, 2013 and 2012 free agents. Third, I'll include guys who left in sign-and-trades because they were free agents to begin with. Options considered are based on NBA.com's free agent trackers...
Atlanta Hawks: Devon Harris
The options: Jason Collins, Willie Green, Kirk Hinrich, Jannero Pargo, Vlad Radmanovic, Jerry Stackhouse, Devon Harris, Dahntay Jones, Zaza Pachulia, Josh Smith, Gustavo Ayon, Cartier Martin, John Salmons
Hawks fans weren't too disappointed when Josh Smith left town, and Pistons fans weren't too pleased with his time here either, so I think Harris is the choice here. Harris is a pretty boring name to have your hostage meeting with, but he does own the Guinness World Record for "fastest man with a basketball", so that's cool. Harris played college ball for Bo Ryan at Wisconsin, so there's at least a chance that you could hold him hostage in the cave Ryan lives in.
Boston Celtics: Ray Allen
Ray Allen, Marquis Daniels, Ryan Hollins, Jermaine O'Neal, Greg Stiemsma, Kris Joseph, Jerryd Bayless, Kris Humphries
This is a painfully easy decision. Allen contributed to the Celtics' most recent title team back in 2008, and he's one of the two or three best shooters in NBA history. He spurned Celtics fans for LeBron James and the Heat in the summer of 2012, which was the beginning of the end for Boston's championship core. While the Clippers reportedly played cards throughout the night during Jordan's hostage situation, you can be sure that Allen's hostage situation would be him breaking down the highlights of his acting appearances in
He Got Game
and
Harvard Man
.
Brooklyn Nets: Paul Pierce
Sundiata Gaines, Gerald Green, DeShawn Stevenson, Keith Bogans, CJ Watson, Andray Blatche, Shaun Livingston, Paul Pierce
The Nets gave up three first round picks to Boston in the deal that netted them Pierce, Garnett, some other pieces and one playoff series victory. For that reason alone, their hostage meeting with Pierce would have been all kinds of intense. You can just imagine Nets GM Billy King opening all the doors in the house because he doesn't understand how things work. Pierce may not have had a glamorous tenure in Brooklyn, but he's our country's greatest troller of the city of Toronto, and for that, he's got to be the choice.
Charlotte Hornets: Josh McRoberts
DJ Augustin, Byron Mullens, Reggie Williams, Chris Douglas-Roberts, Ben Gordon, Josh McRoberts, Anthony Tolliver, Luke Ridnour
There can only be so much desperation in a last-ditch pitch for McBob, but he's the pick here, considering the next best option is...DJ Augustin?
Chicago Bulls: Omer Asik
Omer Asik, Ronnie Brewer, John Lucas III, CJ Watson, Marco Belinelli, Nate Robinson, Lou Amundson, DJ Augustin, Carlos Boozer, Jimmer Fredette
The Bulls were practically forced to let Asik walk after the Rockets hit him with a poison pill contract that loaded up the last year of his contract. If that hadn't been the case, maybe Chicago would have liked one last shot to bring back the strong interior defender. Nothing says "Come back to Chicago" like a meeting with Jerry Reinsdorf and then-coach Tom Thibodeau in one of Chicago's popular sausage places. That would be dependent on Reinsdorf opening up his wallet to rent the place out though.
Cleveland Cavaliers: Luol Deng
Antawn Jamison, Omri Casspi, Wayne Ellington, Shaun Livingston, Marreese Speights, Luol Deng, Spencer Hawes, CJ Miles
Deng wasn't a Cavalier for very long, but he's easily the most talented player on this list. Cleveland made an aggressive move to pick up Deng in the middle of the 2013-14 season, only to find that Deng really, really didn't want to be there because of how toxic the situation was. I'm trying to think of how you'd possibly wine-and-dine a guy in Cleveland, and unless Deng's into blight or a river that catches fire, I think it would be better to just hold the meeting at his place.
Dallas Mavericks: Jason Kidd
Brendan Haywood, Jason Kidd, Ian Mahinmi, Jason Terry, Elton Brand, Darren Collison, Mike James, Chris Kaman, OJ Mayo, Anthony Morrow, Dejuan Blair, Vince Carter, Shawn Marion
No matter who you pick off the list for the Mavs, find out what city the player lives in during the offseason, get out your
Chris Broussard Twitter Simulator and let the rumors fly
! For the low cost of your dignity, you can have "sources" too! If it's Jason Kidd you picked, maybe Mark Cuban is wandering aimlessly through California begging anybody who will listen for the cardinal direction that could guide him to Kidd's house. Or maybe he's well-prepared for this and has been tracking Kidd since he joined the team. The possibilities are endless!
Denver Nuggets: Andre Iguodala
Corey Brewer, Andre Iguodala, Jan Vesely, Aaron Brooks
Who needs a hostage meeting when you've only lost four players via free agency in three offseasons? I'm not sure what could make a player want to live in Denver,
do you know what that's all about
? Iguodala just won NBA Finals MVP, so he just barely edges out Jan Vesely.
Detroit Pistons: Jose Calderon
Jose Calderon, Corey Maggette, Jason Maxiell, Rodney Stuckey, Charlie Villanueva
Let's not talk about this one. When Jose Calderon is the biggest free agent your team has lost, and he was only around for a few months, well, your team probably hasn't been very good, lr you're the Spurs. The Pistons aren't the Spurs.
Golden State Warriors: Jarrett Jack
Nate Robinson, Andris Biedrins, Ian Clark, Jarrett Jack, Richard Jefferson, Carl Landry, Brandon Rush, Steve Blake, Jordan Crawford
Jack went on to play for Cleveland and Brooklyn, and the Warriors won a title. Maybe Jack should have held the Warriors hostage?
Houston Rockets: Goran Dragic
Chase Budinger, Marcus Camby, Goran Dragic, Courtney Lee, Jon Leuer, Luis Scola, Carlos Delfino, Omri Casspi, Jordan Hamilton, Chandler Parsons
Here's the first real head scratcher on the list. You could make a great case for taking Parsons hostage instead of Dragic. Since Dragic has an All-NBA appearance, I'll give the nod to him. Can you imagine a lock-in with Parsons though? The guy signed his contract with the Mavs in a nightclub. At a bargain price of two hits of X and a bottle of Hennessy, your favorite team can negotiate with Chandler Parsons too!
Indiana Pacers: Lance Stephenson
Lou Amundson, Leandro Barbosa, AJ Price, Dahntay Jones, Cole Aldrich, DJ Augustin, Tyler Hansbrough, Jeff Pendergraph/Ayres, Rasual Butler, Lance Stephenson, Evan Turner
Stephenson was brutal last year in Charlotte, but there's not much else to pick from on this list. However, the words "hostage" and "Lance Stephenson" inspire a terror inside of me. Maybe just delete all the numbers out of his phone, cut his internet and don't let things come back online until the moratorium's over.
Los Angeles Clippers: Darren Collison
Randy Foye, Reggie Evans, Kenyon Martin, Mo Williams, Nick Young, Chauncey Billups, Ronny Turiaf, Darren Collison, Danny Granger, Willie Green, Ryan Hollins
Collison backed up Paul in New Orleans too before playing behind him in LA. The Clippers don't really have much behind Paul, so maybe they regret letting Collison get away to Sacramento? I don't know, I just know that nobody else on the list is worth the effort that LA put into DeAndre Jordan.
Los Angeles Lakers: Dwight Howard
Matt Barnes, Ramon Sessions, Earl Clark, Dwight Howard, Antawn Jamison, Metta World Peace, Kent Bazemore, MarShon Brooks, Jordan Farmar, Pau Gasol, Chris Kaman, Kendall Marshall, Jodie Meeks
Boring
Okay, now imagine Kobe Bryant camped out inside Howard's house, begging Howard to stay and telling him how important he is...
Memphis Grizzlies: OJ Mayo
OJ Mayo, Austin Daye, Fab Melo, Ed Davis, James Johnson, Mike Miller
The Grizzlies went with Mayo over Kevin Love in the 2008 NBA Draft (they traded for him, but that's not the point), so maybe they kick Mayo's agent out of the house, grab a deck of cards and focus on something other than what could have been.
Miami Heat: LeBron James
Ronny Turiaf, Mike Miller, Michael Beasley, LeBron James, James Jones
The Heat should be grateful for the two titles he got them, but you couldn't blame them for wanting more. If the Clippers put on the show they did to get DeAndre Jordan back, think about the lengths Pat Riley would have gone to if it meant bringing the world's greatest player back to Miami. I'm not sure murder would have been off the table.
Milwaukee Bucks: Monta Ellis
Kwame Brown, Carlos Delfino, Gustavo Ayon, Samuel Dalembert, Mike Dunleavy, Monta Ellis, Brandon Jennings, JJ Redick, Jeff Adrien, Ramon Sessions, Ekpe Udoh
The diminutive guard is quite a scorer, but it's not like he was beloved in Milwaukee. The Bucks' front office might have, like, met him at Applebee's for apps or something, but I doubt they would have locked down Ellis' home to keep him with the team.
Minnesota Timberwolves: LOL
Michael Beasley, Darko Milicic, Anthony Randolph, Martell Webster, Andrei Kirilenko, Greg Stiemsma
How do you pick among a list of guys with so much to offer? Maybe if the Wolves had Kirilenko when he was still good?
New Orleans Pelicans: Chris Kaman
Marco Belinelli, Chris Kaman, Carl Landry, Rashard Lewis, Lou Amundson, Roger Mason Jr., Donald Sloan, Al-Farouq Aminu, Brian Roberts, Anthony Morrow
I'm going to take this section to tell a personal Chris Kaman story: Having grown up a few towns over from where Kaman played HS basketball, he ran a few camps in the area during the off-season. Through the camps he got connected with a charity 3-on-3 that was run through my school for a coach battling ALS. Kaman made an appearance one year and proceeded to shatter the backboard in our junior high gym. Kaman is every bit as large as he appears on TV and twice as scraggly.
New York Knicks: Jeremy Lin
Landry Fields, Jared Jeffries, Roger Mason Jr., Jeremy Lin, Chris Copeland, Dan Gadzuric, Josh Harrellson, Shann Brown, Toure Murry, Metta World Peace
Lin was a world-wide superstar after a short run where he played like one. It really did make sense for the Knicks to let him go, considering the deal he signed in Houston. That being said, imagine the media focus had Lin's decision process gone like Jordan's. Although it's probably
better for ESPN's reputation
that it didn't break down that way.
Oklahoma City Thunder: Kevin Martin
Royal Ivey, Nazr Mohammed, Ronnie Brewer, Kevin Martin, Caron Butler, Thabo Sefolosha
Martin has flaws in his game, but any team could use his scoring prowess. Russell Westbrook would show up to the hostage situation at Martin's house dressed like some mix of Urkel and Lana Del Rey, and I just don't think the world's ready for that.
Orlando Magic: Ryan Anderson
Ryan Anderson, Daniel Orton, Al Harrington, Beno Udrih, Doron Lamb, Jason Maxiell, E'Twaun Moore, Jameer Nelson, Ronnie Price
Anderson's
been through a lot
, no jokes at his expense from me. Who's second on the list for the Magic though? Probably Beno Udrih?
Philadelphia 76ers: Lou Williams
Elton Brand, Jodie Meeks, Lou Williams, Sam Young, Andrew Bynum, Dorell Wright, Nick Young
Drake wrote a song about him, so I would say that means he's entitled to the attention that DeAndre Jordan got. Of course, Philly would have had to been trying to win to want to keep him.
Phoenix Suns: Steve Nash
Aaron Brooks, Grant Hill, Robin Lopez, Steve Nash, Ronnie Price, Michael Beasley, Wesley Johnson, Jermaine O'Neal, Leandro Barbosa, Channing Frye, Ish Smith
Lopez has been the most productive player on the list since leaving the Suns, but Nash was a legend in his Suns days. It was time for him to go when he ended up with the Lakers. Any hostage meeting with Nash should've been more like a memorial for his glory days.
Portland TrailBlazers: Jamal Crawford
Jamal Crawford, Jonny Flynn, Raymond Felton, Joel Przybilla, Brandon Roy, Hasheem Thabeet, Mo Williams
According to Wikipedia, just about everybody who was at the DeAndre Jordan hostage situation was at Crawford's wedding in 2014.
Sacramento Kings: Tyreke Evans
Toney Douglas, Tyreke Evans, Wayne Ellington, Aaron Gray, Isaiah Thomas
Evans won Rookie of the Year with the Kings, who then proceeded to do what they do best and bungle his development. As a Pistons fan, I don't have a whole lot of room to talk here, but let's say the Kings had put the full court press on Evans when he hit free agency. Who's to say that it doesn't end with Evans getting a restraining order against the Maloof brothers within the first five minutes?
San Antonio Spurs: Nope
Dejaun Blair, Ike Diogu, Gary Neal, Damion James
The Spurs don't let good players get away, and when they have a chance at pulling one in, they lock it up. The Spurs are so far above what happened with DeAndre Jordan that it's not even funny.
Toronto Raptors: Nah
Jerryd Bayless, Alan Anderson, Marcus Camby, John Lucas, Nando de Colo
Another team that just doesn't have enough going on in free agency to factor into the game here. If you have to pick one, I guess it's Bayless?
Utah Jazz: Al Jefferson
Andrei Kirilenko, CJ Miles, DeMarre Carroll, Randy Foye, Al Jefferson, Paul Millsap, CJ Watson, Mo Williams, Richard Jefferson, Brandon Rush, Marvin Williams
Tough call between Jefferson, Millsap and Carroll, but the hypothetical hold-up at a player's house would've happened when they left the Jazz. At that point, Jefferson was the biggest name. They could've had the whole front office over to Jefferson's house and held the meeting on his huge-ass bed.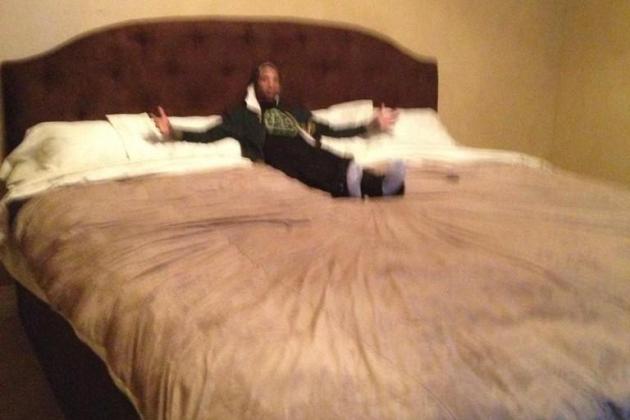 Washington Wizards: Trevor Ariza
Andray Blatche, Trevor Ariza, Trevor Booker, Chris Singleton
Ariza is a useful player, but I'm not sure if it's worth bringing the whole cavalry to keep him in town.
So that's what I've got. Think I picked the wrong player to take hostage for your favorite team? Leave it in the comments below.