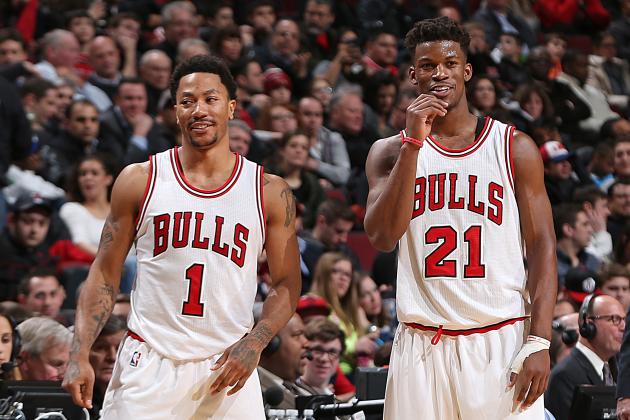 CHICAGO BULLS
[] 50-32
[] Offensive Rating: 108.5 (10th)
[] Defensive Rating: 105.1 (11th)
[] Net Rating: +3.4 (T-9th)
[] Eliminated in Eastern Conf. semifinals
[] Coach: Fred Hoiberg
The Bulls are now four years removed from their appearance in the 2011 Eastern Conference Finals, which came after a 62-win season and saw Derrick Rose win the MVP. Things have been turbulent since then, as Rose can't stay healthy, which has contributed to the Bulls' inability to get back to the conference finals. They decided to address that situation in the offseason by firing Tom Thibodeau, who didn't seem to see eye-to-eye with the front office. In comes Fred Hoiberg, who played for the Bulls for four seasons around the turn of the millennium. Hoiberg had success as the head man at Iowa State, finishing 115-56 with four NCAA tournament appearances in his five seasons with the Cyclones. He'll bring his experience as an NBA player with him, but will have to adjust to coaching at the pro level. That transition will be eased by the amount of talent and experience the Bulls have on the roster. There isn't a deeper roster in the Eastern Conference, especially after the emergence of Jimmy Butler and Nikola Mirotic last season. Butler proved to be one of the best two-way players in the league last year, and Mirotic could be one of the best reserves in the game. Add the potential for a full-ish season of Rose to the mix and the Bulls are going to contend in the Eastern Conference
Projected Starting Five


PG: Derrick Rose - 6'3, 190 - 7th NBA season

Rose will turn 27 this October, entering his theoretical prime, and we're now a shocking five years away from his MVP performance in the 2010-11 season. It's been that long since Rose has played anywhere close to a full season too, having only played a total of 100 games over the four years since winning the Maurice Podoloff Trophy. He wasn't his old self last year in the 51 games he appeared in, struggling with his assist/turnover numbers and posting an ugly TS%. Still, it's good news that he played in as many games as he did, which was his highest number since his MVP season. Fingers crossed that Rose can stay healthy this year and get closer to his true form.


SG: Jimmy Butler - 6'7, 220 - 5th NBA season

The Bulls rewarded Butler for winning Most Improved Player, making his first All-Star appearance and earning a second straight All-Defensive 2nd team election by giving him a five year, $95M deal over the summer. Butler found new levels of efficiency on the offensive end last year by having a really good season from behind the arc, cutting turnovers, raising his Assist Rate and keeping up one of the league's higher FT rates among wings. The offensive transformation turned him into one of the league's best two-way players, and forced the Bulls to pony up when it came to negotiation time. I'm somewhat skeptical that he can shoot 38% or better from three every year going forward, but he's efficient enough elsewhere that it won't hurt too bad if he falls a couple of percentage points there. At only 26 years old, the Bulls have Butler for the duration of his prime, one that figures to see him make a few more All-Star teams in an Eastern Conference light on wings of his caliber.


SF: Mike Dunleavy - 6'9, 220 - 14th NBA season

Dunleavy will turn 35 before the start of the season, but as a sharpshooter, he hasn't shown any signs of falling off. He's exactly the piece that the Bulls' offense needs to keep things open for Rose, Butler and Gasol. In the last five years, Dunleavy's worst outside shooting performance checks in at an even 38%. He's not an exciting player, but he's the kind of shooter every team needs in today's pace-and-space league. Tony Snell could push his way into the starting lineup at the expense of Dunleavy if Dunleavy loses a step and Snell makes a leap in his third season.


PF: Pau Gasol - 7'0, 240 - 15th NBA season

The 2001-02 Rookie of the Year made his fifth All-Star team and his fourth All-NBA selection in his first season with the Chicago Bulls. Gasol did that by using his fair share of the offense in an efficient manner, posting a career-high in TRB% and continuing to showcase his passing ability from the high post. Gasol turned 35 this summer, but hasn't shown any signs of slowing down just yet.


C: Joakim Noah - 6'11, 240 - 9th NBA season

Noah went from 1st team All-NBA in 2013-14 to trade candidate following the 2014-15 season. I don't think anything was truly close, but it's not hard to see why the possibility was brought up. The toll of heavy minutes the last few years finally caught up to Noah, as his scoring efficiency nosedived, his rebounding rates suffered, and his shot blocking numbers also slowed down. Also changed was Noah's overall rim protection: opponents shot 47.2% against Noah at the rim in 2013-14, but that ticked up to 51.7% in 2014-15. A bounceback season should be in the works, but Noah will turn 31 in February, so it's far from a guarantee.


Bench


PG: Aaron Brooks - 6'0, 180 - 8th NBA season

Brooks filled the ever-important role of backup to Derrick Rose last season, starting 21 games in his absence and providing generally solid play. He's a consistently good outside shooter, and he does enough as a playmaker to be passable. With Kirk Hinrich's struggles last year, Brooks' steady play off the bench was bigger than it should have been. E'Twaun Moore could also play minutes in the Bulls backcourt.


G: Kirk Hinrich - 6'3, 190 - 13th NBA season

Hinrich's barely been passable the last few seasons, but he took it to a new level last season. His PER was among the worst in the league for a player who got the amount of run he did. Among players who saw at least 1,000 minutes last season, only extra-raw rookie Dante Exum had a worse PER. Even Kendrick Perkins checked in above Hinrich.


G/F: Tony Snell - 6'7, 200 - 3rd NBA seaosn

Snell showed some signs of progress last year, especially late in the year, posting all four of his 20+ point games after the calendar hit February. His February in general was particularly strong, as he posted a 74.7 TS% in his nine appearances that month. As mentioned above, Dunleavy hasn't shown any signs of slowing down, but if he does and Snell continues on his trajectory, he could force his way into the starting lineup by the end of the year.


SF: Doug McDermott - 6'8, 225 - 2nd NBA season

McDermott had some surprising struggles in his rookie year. Most thought he might have trouble with the physical aspects of the faster, tougher pro game, but I don't think many people thought he would shoot the three ball as poorly as he did. A lot of rookies do though, so it's not anything to get too concerned with just yet. McDermott turns 24 in January, so he has less time to start figuring things out than most second year players. For what it's worth, I think he'll be a decent role player in year two, as he shoots the ball better.


F: Nikola Mirotic - 6'10, 225 - 2nd NBA season

Mirotic earned first team All-Rookie honors by being an efficient scorer, which was built on getting to the FT line often. There's more upside there though, because Mirotic was a good-to-great outside shooter during his time in Europe. If he can add NBA three point range to his arsenal, Mirotic could find himself in the running for a Sixth Man of the Year award this year, an award he received 12 overall votes for last season.


PF: Taj Gibson - 6'9, 230 - 7th NBA season
Gibson's name was also thrown around as a trade candidate during the offseason, without much in the way of an actual implication he would be dealt. He's an important bench piece for the Bulls due to his stingy defense and reliable offense. Gibson turned 30 this summer, usually an indication that the end of a player's prime is near. Still, the Bulls should get another good year out of him in 2015-16.
PF: Bobby Portis - 6'10, 240 - Rookie
Portis was the 22nd overall pick in the 2015 NBA Draft, which I think could turn out to be a steal for the Bulls. Due to the rotation being a bit thin at the C spot, Portis could see time there this year, but he's a more natural fit for the PF spot. He has range out close to the NBA three point line and has good touch around the basket. His rookie year could be a bit rough as he adjusts to players who are more athletic and physical than he is, but I liked this pick for the Bulls.
C: Cameron Bairstow - 6'10, 250 - 2nd NBA season
Bairstow showed a new wrinkle to his game this summer, shooting 35.7% on 14 three point attempts during Las Vegas Summer League play. With Portis, and European import Cristiano Felicio who isn't listed here, looking like the only other options at C off the bench, Bairstow will almost certainly see more than the 64 minutes he played last year. Although Pau Gasol will certainly see time at the spot when Noah is out, I consider the backup C spot to be the biggest question mark the Bulls have.
Outlook
A large portion of the Bulls' chances depend on the health of Derrick Rose, which isn't a promising scenario. Still, they managed to hit the 50 win mark last season, even with Rose missing 31 games and not playing to his full capabilities even when he was on the floor. Butler and Gasol were big parts of that, and the Bulls' depth on the wing and the post played into their favor as well. None of that's changed this year, and it's fair to assume that Rose, Noah, Snell, McDermott and Mirotic all see some kind of improvement on their output from last season. Who knows if they can overcome their recent playoff demons when the time comes, but this team is going to remain extremely competitive in the regular season. I see Chicago ending up with something like 52 wins, which should put them firmly in the upper half of the Eastern Conference.