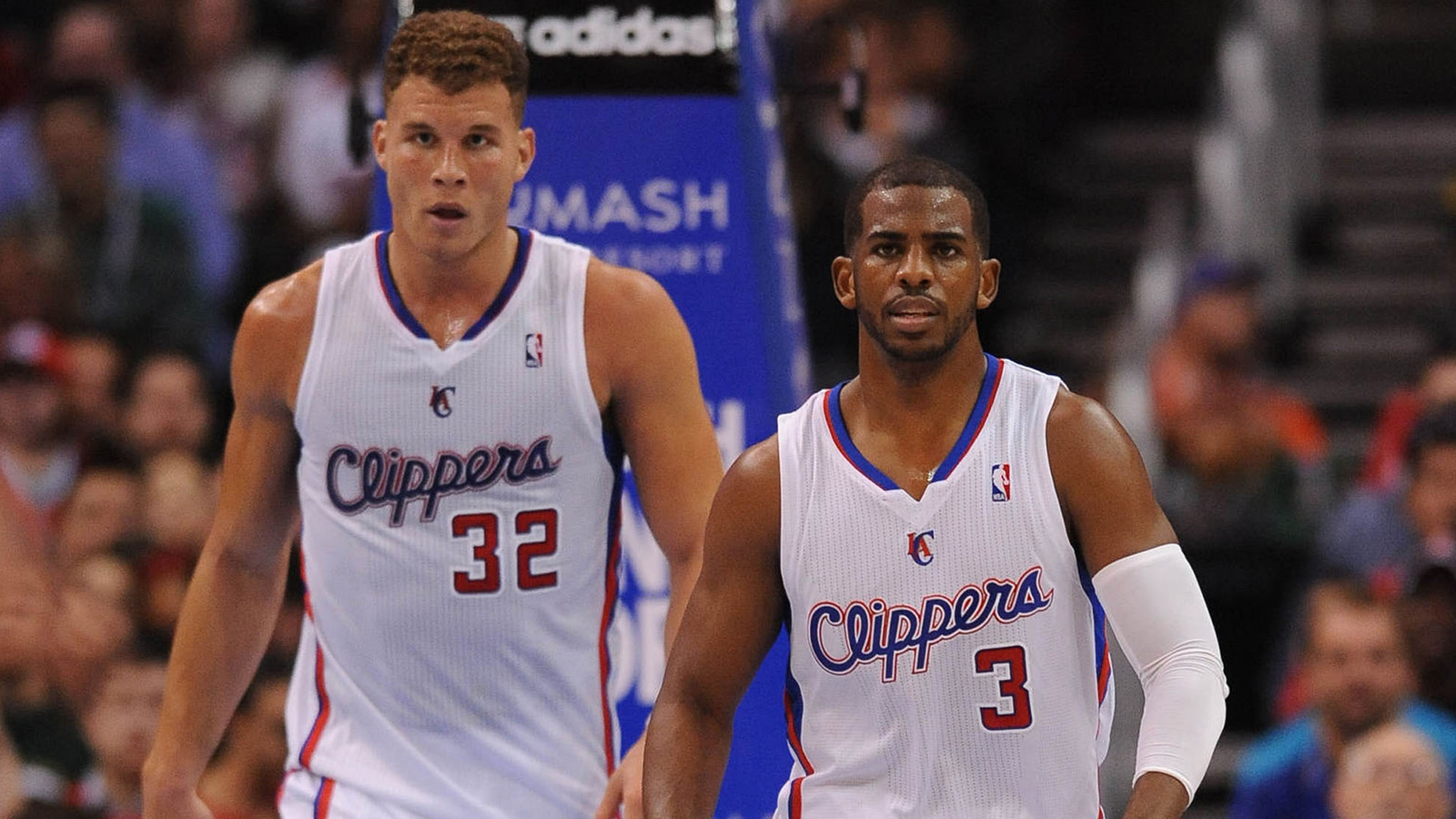 LOS ANGELES CLIPPERS
[] 56-26
[] Offensive Rating: 113.2 (1st)
[] Defensive Rating: 106.2 (16th)
[] Net Rating: +7.0 (2nd)
[] Eliminated in Western Conf. semifinals
[] Coach: Doc Rivers
The Clippers have advanced to the Western Conference semifinals in three of the last four seasons, yet remain in pursuit of the franchise's first conference finals appearance. Blessed with one of the most talented rosters in the league, Los Angeles just hasn't been able to get it done when it matters most. Last season was the perfect example of this, as the Clippers raced out to a 3-1 series lead against the Rockets in the second round of the playoffs. The Clippers then proceeded to give up an average of 118.7 PPG over the final three games of the series en route to an embarrassing dismissal from the playoffs. They'll look to regroup this year, with the whole roster back in place after a scare from DeAndre Jordan in free agency. The offense will continue to hum, but questions about the Clippers' ability to keep opponents from posting video game numbers are going to exist until proven wrong.

Projected Starting Five

PG: Chris Paul - 6'0, 185 - 11th NBA season

Another year, another excellent season from CP3. He earned his 8th All-Star selection and a second team All-NBA nod. On top of that, he posted the league's top Assist Rate for the third straight year, finished with a top five PER for the fifth time in his career and was the proverbial drink-stirring straw for the Clippers that every team needs. At 30 years old, we need to cherish the remainder of Paul's prime for as long as we can.


SG: JJ Redick - 6'4, 190 - 10th NBA season
The perfect outlet for the easy looks that an offense with Chris Paul and Blake Griffin creates, Redick had another excellent season in 2014-15. Redick's 62.2 TS% was the best of his career, as was his 51.6 2P%. Every team needs a guy like Redick, who's a career 46.5% shooter on corner threes.
SF: Paul Pierce - 6'7, 220 - 18th NBA season
Pierce isn't the All-NBA player he used to be, but he's settling in nicely as a star role player. He was the perfect third option for the Wizards last season, and if he can keep himself afloat at age 38, he'll be a great complement to Paul and Griffin in LA. He's a defensive downgrade from Matt Barnes, but his offense should more than make up for that. Pierce hasn't shot below 35% from beyond the arc since the 2003-04 season.
PF: Blake Griffin - 6'9, 290 - 6th NBA season
Griffin's fourth-straight All-NBA caliber season actually was a step down from what he did in 2013-14. His rebounding and scoring efficiency took a step back, but he did have the best passing season of his career (26.2 AST%/10.2 TOV%). He's not the best PF in the league, but there's no shame in being second to only Anthony Davis. Plus, he had the league's top tweet of the off-season...
C: DeAndre Jordan - 7'0, 250 - 8th NBA season
— Blake Griffin (@blakegriffin32) July 9, 2015
PG: Austin Rivers - 6'4, 200 - 4th NBA season
Rivers actually showed signs of life late last year, particularly in the form of a couple big playoff showings against the Rockets in the 2nd round. He had a 25 point game off the bench and 17 points and 4 steals in a start in game one of the series. Odds are that he's not going to be reliably above average, but if he can split minutes between both guard spots adequately, it's a win for the team.
PG: Pablo Prigioni - 6'3, 180 - 4th NBA season
The Clippers just need the 38 year old Prigioni to steady the backup PG spot when Rivers isn't getting the job done.
SG: Jamal Crawford - 6'5, 200 - 16th NBA season
Crawford wasn't bad last season, but his efficiency took a hit as he struggled with his outside shot. There was trade talk about Crawford over the summer, who's in the last year of his deal, but unless Wilcox or Stephenson really establishes themselves as the backup SG, the Clippers still need his services.
SG: CJ Wilcox - 6'5, 195 - 2nd NBA season
The Clippers' 2014 1st round pick didn't get much run at the NBA level or the D-League level last year. That probably won't change much this year without significant injuries paving the way to playing time.
G/F: Lance Stephenson - 6'5, 210 - 5th NBA season
I think we all know how horrific Stephenson's 2013-14 season was, as he was among the worst player's in the league at just about every major efficiency mark among players with at least 1,000 minutes. There wasn't a single player with that qualification who had a lower TS% than Stephenson. That being said, he's only 25 years old and only one full season removed from being one of the league's better two-way wings with the Pacers. This is a smart gamble for the Clippers.
SF: Wesley Johnson - 6'7, 205 - 6th NBA season
Johnson is an improvement over the "depth" the Clippers used at SF last season, which included Hedo Turkoglu, Chris Douglas-Roberts, Reggie Bullock and Jordan Hamilton.
PF: Josh Smith - 6'9, 225 - 12th NBA season
If the Clippers are getting the Houston version of Smith, then this is an excellent pickup for a team in desperate need of real depth up front. Plus, think about the terrifying 4/5 pick-and-roll that Smith ran with Dwight Howard in the playoffs, but with DeAndre Jordan at the five.
C: Cole Aldrich - 6'10, 255 - 6th NBA season
Aldrich is also an improvement over last year's frontcourt depth, assuming he can come anywhere close to repeating the solid season he had with the Knicks last season.
Chuck Hayes
could also factor in at PF and C.
Outlook
With Chris Paul entering the late stages of his prime, the clock may be starting to tick on the Clippers' chances at a title. The offense is unquestionably one of the league's best, but they simply aren't going to compete in the playoffs without improving their ability to keep opponents from walloping the triple digit mark. DeAndre Jordan brings his own individual defensive strengths, but the team as a whole needs to kick the intensity at that end of the floor up. I think we'll see enough of an improvement defensively this year to give the Clippers a real shot at earning a bid to the Western Conference Finals. Last year's other main weakness, depth (especially on the perimeter), has been addressed as well. Doc Rivers knows that the clock is ticking on this group, and I think we'll see results that suggest the Clippers understand it's now or never. I have the Clippers down for 55 wins and a trip to the Western Conference finals.