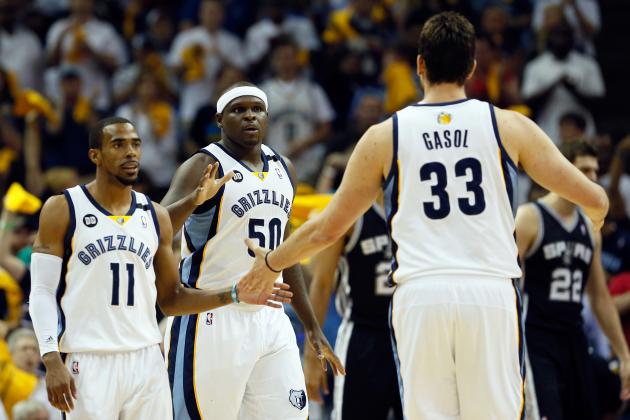 MEMPHIS GRIZZLIES
[] 55-27
[] Offensive Rating: 106.4 (13th)
[] Defensive Rating: 102.9 (3rd)
[] Net Rating: +3.5 (8th)
[] Eliminated in Western Conf. semifinals
[] Coach: Dave Joerger
The grittiest, grindiest team in the league is looking to return to the Western Conference Finals after breaking through in 2013. The 2012-13 Grizzlies set a franchise record with 56 wins, and advanced to the first conference finals appearance in franchise history before being swept away by the Spurs. The core of that group is still around, trying to top its performance from a few years back. In the time that's passed since, the Grizzlies have seen continued personal growth from guys like Mike Conley and Marc Gasol, and the continued presence of sandpaper-smooth veterans like Zach Randolph and Tony Allen. The Memphis identity won't be changed in the slightest this year, as the FedEx Forum promises to continue to earn its Grindhouse moniker. What Memphis is hoping will change is the fact that they just haven't had enough offensive firepower to hang tough when the playoffs roll around. This year's attempt to address that issue will hinge on the health of guys like Conley, and the hopes that players like Jeff Green and Courtney Lee can put enough of a stamp on the offense to make an important difference. With more depth and another year of cohesion, will this be the year that the Grizz break through the Western Conference?
Projected Starting Five


PG: Mike Conley - 6'2, 185 - 9th NBA season

Ever the most underrated PG in the league, we saw just how much he meant to the Grizzlies when he missed three games during the 2014-15 playoffs. Memphis lost two of those games (one to Portland, one to Golden State) and generally missed a full-strength Conley. When healthy, he's an efficienct scorer, adequate playmaker and solid defender. He's the kind of PG every team can use but few teams have. Conley has never been an All-Star, but that's just a matter of circumstance, where he plays in a loaded Western Conference. He'll turn 28 in October, and Grizzlies fans will continue to enjoy the remainder of his prime.


SG: Tony Allen - 6'5, 215 - 12th NBA season

The heart and soul of Grit-N-Grind, anything that Allen gives to the Grizzlies on offense is a cherry on top. The Grindfather is an asset because of his toughness and defensive ability/versatility. That being said, last year was a solid offensive season for Allen.


SF: Jeff Green - 6'9, 235 - 8th NBA season

Green's offensive exploits made him an attractive mid-season pickup for the Grizzlies last season, as they shipped out a future first and other pieces to acquire his services. Green feels like the kind of piece who could quietly have a big impact on the Grizzlies' outlook this season. If he can provide efficient offense from the wing, the Grizzlies host a first-round playoff series. If not, they play a tough series on the road.


PF: Zach Randolph - 6'9, 250 - 15th NBA season

Outside of Tony Allen, Randolph is the other main piece who helps establish the Grizzlies' identity of toughness and grit. A floor-bound offensive option, Randolph continues to provide reliable offensive output from the block on out as he ages into his mid-30s.


C: Marc Gasol - 7'0, 265 - 8th NBA season

Gasol signed a well-deserved five year, $110M deal to stay with the Grizzlies this offseason, something that always seemed like it was going to happen. With his presence assured for the next five years, the Grizzlies can continue to expect solid all-around play from their All-Star C. A well-renowned defender, able passer, solid rebounder and scorer, Gasol does it all for Memphis. He's the piece that makes the offense go and what the defense is built around on the interior.


Bench


PG: Beno Udrih - 6'3, 205 - 12th NBA season

Udrih filled in admirably for Conley while he was out, but he's much better suited for the bench role he'll fill. Udrih should improve after a down year shooting the three ball, although I doubt he'll shoot just under 54% inside the arc again. Russ Smith could also factor in here at some point.


SG: Courtney Lee - 6'5, 200 - 8th NBA season
Lee is a much-needed offensive piece off the bench for the Grizzlies. Jordan Adams is waiting in the wings, but Lee will continue to provide the offensive punch behind Allen this year.
SG: Jordan Adams - 6'5, 200 - 2nd NBA season

Adams may bonce back and forth between the D-League and Memphis again this year. His minutes should increase from last year, but unless there are injuries on the wings, it's hard to see him winning a large role this year.


G/F: Vince Carter - 6'6, 215 - 18th NBA season
In the twilight of a great career, it's hard to say what exactly Carter offers the Grizzlies on the floor. He'll turn 39 in January, and this could very well be his last trip around the block.
SF: Matt Barnes - 6'7, 235 - 13th NBA season
Barnes' tough guy act should fit in nicely with the Grizzlies, as he comes to Memphis from the hated Clippers. He's a role player on offense, and should give the Grizzlies another defensive weapon for Dave Joerger to utilize as he sees fit.
F: Jarell Martin - 6'9, 235 - Rookie

Once he returns from what appears to be a serious foot injury, Martin could see time at both F spots if things go well. However, it's more likely that he bounces back and forth between the D-League as the Grizzlies utilize more experienced options in the frontcourt and his foot heals up.


PF: Jarnell Stokes - 6'8, 260 - 2nd NBA season

Stokes didn't get many minutes last year, but with Jon Leuer shipped out to Phoenix and an injury to Jarell Maritn, it looks like that will change. He's a bruiser on offense, something that should help replicate Randolph's role on the second unit. Not that he'll be anywhere near that productive. JaMychal Green's not listed here, but he could see minutes as well.


F/C: Brandan Wright - 6'9, 240 - 8th NBA season
The Grizzlies signed Wright to a three year deal, after he played parts of last season with Dallas, Boston and Phoenix. Wright is a super-sub in the frontcourt, something that the Grizzlies absolutely have a need for after losing Kosta Koufos in free agency. He should be an improvement on Koufos and have a positive impact on the overall quality of the depth in Memphis.
Outlook
The Grizzlies have done enough to improve this roster to make sure it's going to be relevant in the Western Conference yet again. Brandan Wright is going to be noticeably better than Kosta Koufos in the frontcourt. Jeff Green should improve his offensive output with an added year of experience in the Grizzlies' system and more comfort in the offense. Growth from the young players on the wing adds depth, and I think Courtney Lee is just what Memphis needs, in terms of scoring on the wing. Add it all up, and I've got the Grizzlies coming away with a tie of their franchise-best 56 wins and a great shot at getting back to the Western Conference Finals.