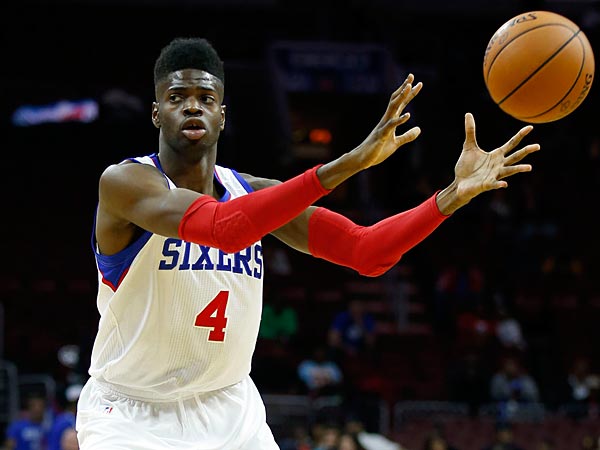 PHILADELPHIA 76ERS
[] 18-64
[] Offensive Rating: 96.4 (30th)
[] Defensive Rating: 105.7 (13th)
[] Net Rating: -9.31 (28th)
[] Last playoff appearance: 2012
[] Coach: Brett Brown
The 76ers' two year tanking effort has landed them a total of 37 wins, 13 realized draft selections and a little clarity on where things go from here. Nerlens Noel showed he could be a franchise cornerstone in his rookie year, demonstrating his defensive ability throughout the year, and showing progress on the offensive end in the second half of the season. Jahlil Okafor could be the real offensive force the Sixers' so desperately need, and he's healthy! Which is more than you can say for Joel Embiid, who is expected to miss another full season. The opening night starters on the wing look much better than last year's (Hollis Thompson & Chris Johnson), although that doesn't say a whole lot. Still, they robbed the Kings of a recent top ten pick, and Robert Covington is the kind of role player good teams put to good use. This is still a very, very bad team, mostly because the depth is atrocious, but I think the point has been reached where they'll start to trend up at some point toward the end of the season. This year's still going to be rough though.

Projected Starting Five


PG: Tony Wroten - 6'6, 205 - 4th NBA season

Wroten had his season cut short by a partially torn ACL last season. Prior to the injury, he struggled with efficiency, but put up some good raw numbers. In the long run, the Sixers would be better off bringing Wroten off the bench, but for now, he'll likely serves as the starter at PG. He's got good size for the position, but his lack of an outside shot really limits his upside.


SG: Nik Stauskas - 6'6, 205 - 2nd NBA season

Stauskas' rookie year didn't go as planned, but there's plenty of reason to think he can turn things around going forward. It's hard to see such a prolific shooter not improving his 3P shooting in year two, and he showed flashes as a playmaker in college. A larger role and less pressure from his peers should benefit him, and that's what he's in line for with the Sixers. Among the positives in year one: a decent Free Throw Rate.


SF: Robert Covington - 6'9, 215 - 3rd NBA season

Covington is an excellent outside shooter, and his size gives Brett Brown a chance to get creative with small-ball lineups. Covington played almost half of his minutes at PF last season. If nothing else, his ability to be an efficient scorer in such an inefficient offense is impressive. At only 24 years old, Covington should belong in Philly's long-term plans. Whether or not he's actually valued as such is up for debate. Much like every Sixer in the last few years, I'm sure he's available for the right price.


PF: Nerlens Noel - 6'11, 230 - 2nd NBA season

Noel was as-advertised on defense during his rookie season, earning votes for the NBA's all-defense squads. The offensive part is still coming along, but if Philly fans are looking for the silver lining, it could be found in Noel's splits. Post-All Star break, Noel notched a 52.8 TS% in a more-involved role than he saw prior to the break. On top of that, Noel averaged a double-double (13.1 PPG, 10.0 RPG) in that timeframe. If there's one Sixer who should be off-limits (and probably is), it's Nerlens Noel. His defensive prowess should make him an excellent partner to Jahlil Okafor. The potential issue this causes, is that neither has much of a jump shot. The Sixers aren't trying to win anytime soon, so they'll have time to see how the pairing works.


C: Jahlil Okafor - 6'11, 270 - Rookie

Despite the presence of Noel and Joel Embiid on the roster, Okafor was the obvious selection at #3 on draft night, with Karl-Anthony Towns and D'Angelo Russell already off the board. He projects as an offensive force on the block, and he has the requisite size and skill to contribute right away. Early returns from the Las Vegas and Utah summer leagues (16.2 PPG, 8.2 RPG) suggest that he's going to produce, efficient or otherwise. With no other offensive options in the post and no hurry to win games, Okafor's going to get plenty of touches in the post. He should have the inside track for Rookie of the Year if he stays healthy for the majority of the season.


Bench


PG: Kendall Marshall - 6'4, 195 - 4th NBA season
If Wroten isn't the starter at PG, it could be Marshall, who has struggled with turnovers in the first three years of his career. Over the last two seasons, it appears that he's established a fairly reliable jump shot. His stint in Milwaukee last year was somewhat encouraging from an efficiency standpoint, but that was a small sample. His outlook is slightly less murky than that of the other backup PGs.
PG: Isaiah Canaan - 6'0, 185 - 3rd NBA season
Canaan split his 2014-15 season between Houston and Philly, and his production with the Sixers suggests he could be a useful bench piece going forward. He scored with a bit of efficiency, minimized turnovers and had a much better Assist Rate than the one he posted with the Rockets. He doesn't do that stuff well enough to be a starter, but he's got some value.
PG: Pierre Jackson - 5'10, 180 - Rookie (2013-14 D-League Stats)
Jackson was set for his NBA debut last season before tearing his Achilles tendon during 2014 summer league play. He set the D-League on fire two years ago, to the tune of the 29.1 PPG you see above, which included a record-setting 58 point performance. Jackson's a pure scorer, and he should get the opportunity he's earned in the Philly backcourt. It'll be interesting to see how he splits minutes with Marshall, Canaan and Wroten.
PG: TJ McConnell - 6'1, 195 - Rookie
McConnell seems like a bit of a longshot to make the roster, but the size of the guarantee that Philly gave him suggests he'll get an honest chance.
G/F: Hollis Thompson - 6'8, 205 - 3rd NBA season

Thompson's role is to space the floor, and he does it well. Despite opponents knowing exactly what Thompson is on the floor to do, he's shot 40.1% in both of his NBA seasons. He may not do much else well, but there's surely value in what he does for a team that doesn't have much outside shooting.


G/F: JP Tokoto - 6'6, 190 - Rookie

Much like McConnell, it's unlikely that Tokoto spends a majority of his season with Philadelphia.


SF: Jerami Grant - 6'8, 210 - 2nd NBA season
Grant has high upside on the defensive end of the floor, but his offensive game is going to lag if he can't find some kind of outside shot and/or improve his ability to finish inside the arc. Not pictured above? An atrocious 38.3 2P%. He won't turn 22 until March, but he's got to make a big leap on the offensive end this year to even be considered respectable. His saving grace is that he gets to the FT line frequently.
SF: JaKarr Sampson - 6'9, 215 - 2nd NBA season
Sampson will fight for minutes with Jerami Grant; whichever one can manage a respectable outside shot first may win the battle.
PF: Carl Landry - 6'9, 245 - 9th NBA season
Landry was a contract throw-in as part of the trade that brought Stauskas to Philadelphia. He'll make $6.5M in each of the next two seasons. He should see a fair share of minutes in a thin frontcourt, but he'll have to fight off younger players during his time with the Sixers.
PF: Richaun Holmes - 6'10, 235 - Rookie
Holmes broke his elbow during the Utah Summer League, but he's hoping to be back in action by the start of training camp, if not the regular season. Of the three second round picks listed in this space, Holmes looks to have the best chances of seeing regular minutes.
F/C: Furkan Aldemir - 6'10, 230 - 2nd NBA season
Aldemir's Basketball-Reference page claims his nickname is "Mr. Rebound". That's probably all you need to know about him. He'll play reserve minutes at both PF and C.
Outlook
The Sixers have picked up some good pieces for the future, but they're too young and not deep enough to improve much from last year's 18-win season. I actually think they'll take a small step back as they work in yet another roster overhaul, with new starters at SG and C, and Tony Wroten being the second most-experienced player on the roster, in his
fourth
NBA season. They probably have more talent on the floor than they did last season, but their go-to offensive weapon is a rookie and all the talent is young. The long-term plan is clearly still a work in progress, but if that bothers you, being a Sixers fan isn't up your alley. It would be hard for the offense to be worse than it was last season, so there's that to look forward to. The defense should continue to be respectable. I could regret this at the end of the year if things click and Okafor looks dominant, which could push Philly to the 24-28 range, but I'll say this is a roster good enough for a league-worst
17 wins.